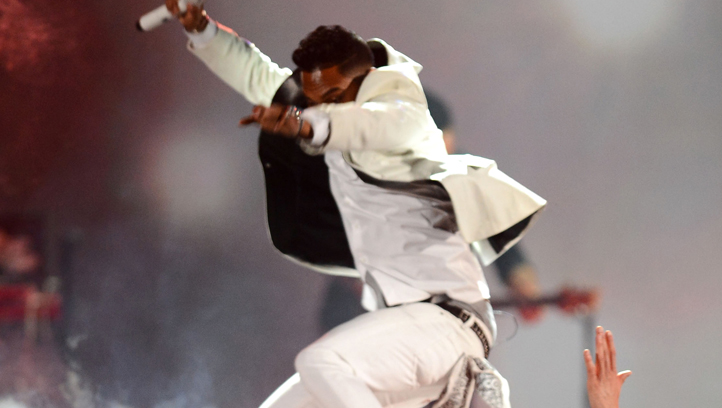 Grammy-winning R&B megastar may have another career in professional wrestling once his career in music is finished.
While performing his hit song "Adorn" at the Billboard Music Awards on Sunday, Miguel attempted to jump from one stage platform to the other. The result was similar to WWE superstar Zack Ryder's finishing move, the "Rough Ryder," as Miguel ended up smashing his leg across the woman's throat and pinning her to the rail of the stage.
The leap then went viral, spawning a plethora of animated gifs, tweets and YouTube videos.
U.S. & World
The day's top national and international news.
Miguel hit that leg drop and then kept singing like he didn't just break all the vertebrae in that girl's neck. — Workhorse(@ItsJayMiller) May 20, 2013

Unlike many of Ryder's matches, the move did not result in a three-count. But even Ryder was impressed by Miguel's leaping ability.
Sick Rough Ryder by @miguelunlimitedat the Billboard Music Awards. — Zack Ryder (@ZackRyder) May 20, 2013
Instantly after the accident, another woman moved the injured spectator out of view. Although Miguel did appear to look at the injured woman after the incident, he never stopped singing. Miguel was seen backstage consoling her with an ice pack after the performance.
The young singer was clearly embarrassed.
"Well, I think it's kind of clear what happened," Miguel told Billboard. "But I'm very happy to bring my new friend, Khyati, we just met . Unfortunately we did not meet under the best circumstances, but I think we're okay."
You can check out a clip of the stage dive gone wrong at Billboard.com.