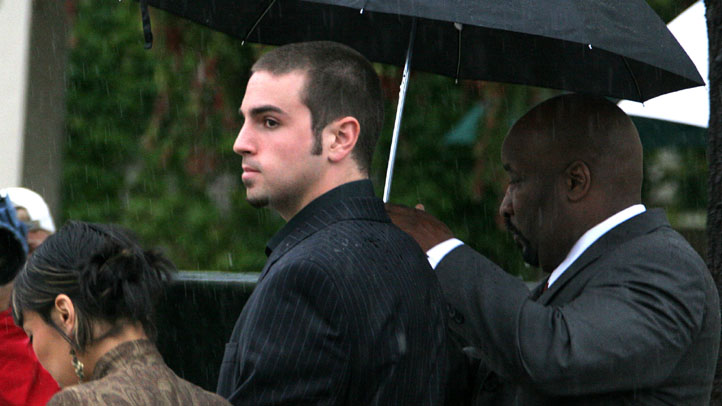 Michael Jackson's legacy has taken another hit.
Choreographer Wade Robson, who testified in the pop icon's defense during his 2005 trial on child molestation charges, has now filed a claim against Jackson's estate, alleging that he in fact was abused by the late star.
Robson's court filing is sealed, but E! News has obtained documents confirming that a petition to make a late claim against the estate, as well as certificates of merit from mental health professionals and other supporting paperwork were filed on May 1.
U.S. & World
The day's top national and international news.
NEWS: 2005 sex-abuse case could be revisited in Jackson wrongful-death trial
"Wade used to tell me that Michael would ask to have baths with him," a close friend of Robson's exclusively tells E! News. "It was weird...He didn't seem to question it, neither would we, it was just what he would say. It sounded strange, but we never delved further."
Robson "never seemed ashamed of it or anything," the insider adds. "I have no idea how he was feeling inside, but he would be quite matter of fact about it."
The "So You Think You Can Dance" regular was even was among the lineup of all-star dancers who performed a tribute to the King of Pop to kick off the 2009 MTV Video Music Awards following his sudden death at 50 that June.
NEWS: Paris Jackson spending time with mother Debbie Rowe
"To us, he would always defend Michael through the previous sexual abuse allegations," the source says. "He loved Michael and would be the first to stick up for him. But to be honest, today's news has not been a surprise as the relationship between Michael and the family was very unusual."
But while Robson maintained during the 2005 trial that Jackson did not molest him, one of the artist's former housekeepers, Blanca Francia, testified that she saw her ex-boss showering with Robson when he would have been 8 or 9 years old.
"Jackson discovered Wade when he was a little boy in Australia," Robson's friend tells us. "Michael thought he was such a talent right from the start and so paid for Wade and his family to move to California. I think he paid their rent, got their visas, organized the whole thing.
"Wade as a little boy always had everything," the source says. "He never had to ask for anything. He always had the best things and he would always say, 'Michael bought it for me.' 'Michael got it for me.'"
The insider adds: "We all knew he was very special and close to Michael."
Meanwhile, Howard Weitzman, the lawyer for Michael Jackson's estate, tells E! News: "Mr. Robson's claim is outrageous and pathetic. This is a young man who has testified at least twice under oath over the past 20 years and said in numerous interviews that Michael Jackson never did anything inappropriate to him or with him. Now, nearly 4 years after Michael has passed this sad and less than credible claim has been made. We are confident that the court will see this for what it is."
--Additional reporting by Claudia Rosenbaum
PHOTOS: See how Michael Jackson's fans paid tribute in the wake of his 2009 death
Copyright E! Online