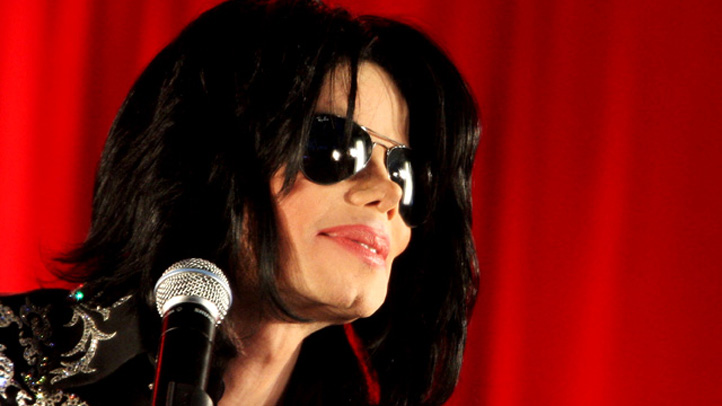 Thirty years ago this week, Michael Jackson reigned in his King of Pop splendor, coming off four-plus months of "Thriller" atop the charts and basking in the afterglow of his electrifying "Billie Jean" moonwalk on the Motown 25th anniversary TV special.
Four years ago Tuesday, Jackson died suddenly at age 50 amid rehearsals for the grand London comeback concerts he hoped would secure him a spot as the world's "greatest" performer. But his death only started a new, albeit post-mortem, phase of his public life. As fans mark the anniversary of Jackson's passing, his mother Katherine is battling the tour promoters behind Jackson's never-to-be return, adding to the sad and sordid accounts surrounding his demise.
Jackson's death on June 25, 2009 kicked off the race to define his legacy, pitting his final days against his glory days. With each passing moment beyond his peak as a performer, Jackson edges toward joining Elvis Presley and Marilyn Monroe as tarnished icons better known by many for the way they died than the entertainment joy they brought to life.
U.S. & World
The day's top national and international news.
That's not to defend less-than-exemplary personal lives – all three battled more than their share of demons, hurting themselves and, to differing extents, those around them. Jackson's public behavior ranged from eccentric (Neverland) to dangerous (dangling his then-infant son Prince Michael II over a hotel balcony railing in 2002), while his private behavior spurred accusations of unspeakable, yet ultimately unproven, horrors.
That's all a big part of the Jackson story, though in death he lost the opportunity to speak for himself – whether in defense or with the singing voice that made him a superstar.
These last four years have brought little of the promised troves of unreleased music. Ironically, Jackson's estate has made more money in the time period following his death than he made during his lifetime. A reported $600 million that includes revenues from Cirque du Soleil's "Michael Jackson's One" and the 2009 concert film "This Is It," which shows Jackson looking perilously thin, but seemingly in control of his art as he rehearses for his comeback shows.
We'll probably never know what was edited out, and our curiosity has only grown amid recent civil trial testimony painting Jackson as an ailing, sleep-deprived, exploited mess during that period. The case follows the trial of his personal physician Conrad Murray, who was convicted in 2011 of involuntary manslaughter for administering a fatal dose of a powerful surgical sedative. Testimony and exhibits laid Jackson bare, via pictures of his nude corpse and tapes of him speaking in a deep, slurred voice, a far cry from chirpy falsetto he used in public.
The reports from the latest court fight come awash in a different kind of sadness. Some testimony over the last seven-plus weeks, as The Associated Press recently noted, offers a portrait of Jackson as a doting, protective father of his three kids, decades after being robbed if his own childhood. The accounts make the heart ache all the more for 15-year-old Paris Jackson, who was rushed to the hospital this month.
Family life was never easy for Michael Jackson. His death has spurred squabbles over his estate and children. Even as his mother battles AEG Live in court, the surviving members of the Jackson 5 – Jackie, Jermaine, Marlon and Tito – reportedly are set to perform Sunday at a concert mounted by the promoter.
All the Michael Jackson-related news feeds an Internet-driven gossip machine that didn't exist when he released his last major album: 2001's "Invincible," a title now wallowing in pathetic irony. About half the world's population wasn't alive when "Thriller" forever changed music. The man who named another album "HIStory" risks losing the legacy he craved, as he put it in his final days on that slurred-voice tape, as "the greatest entertainer in the world."
Hester is founding director of the award-winning, multi-media NYCity News Service at the City University of New York Graduate School of Journalism. He is the former City Editor of the New York Daily News, where he started as a reporter in 1992. Follow him on Twitter.
Copyright FREEL - NBC Local Media