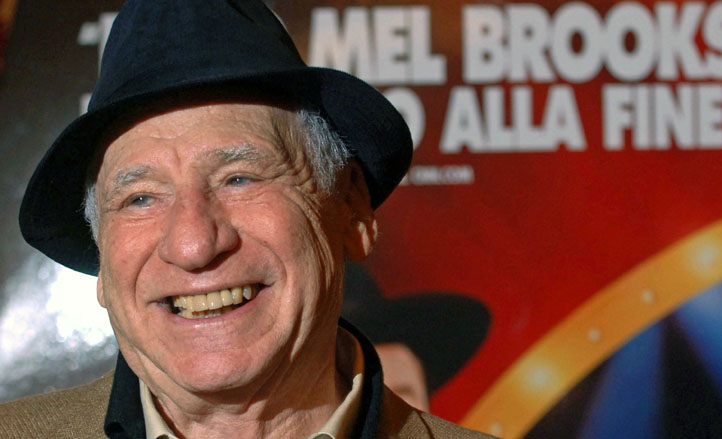 "It was very important to me," declares Mel Brooks, "that every film and everything that I did had a modicum of bad taste, or else it wasn't me. I was naturally vulgar and I didn't want to waste it, so I used it in my comedy." As it turns out, Brooks didn't just have a flair for hilarious jokes of questionable taste – he has a genius for it, and one he mined for decades.
From a stint behind the scenes as a writer on Sid Caesar's pioneering 1950s TV sketch comedy "Your Show of Shows" through his 1960s comedy act with Carl Reiner, a string of taboo-tweaking movie genre spoofs like "The Producers," "Blazing Saddles," "Young Frankenstein" and "Spaceballs" through the 70s, 80s and 90s, to reinventing his by-then trademark naughty silliness for Broadway in the 2000s, Brooks' penchant for highbrow use of lowbrow gags is celebrated in PBS's prestigious "American Masters" series.
Airing May 20, "Mel Brooks: Make a Noise" explores every aspect of the writer/director/producer's storied 60-year career – or more aptly, his love affair with showbiz (Brooks is one of the rare few to have been awarded Emmy, Grammy, Oscar and Tony trophies). Brooks himself is rarely given to indulge his industry's extremely frequent victory laps – "I mean, why waste time doing that when you can write another song or you could write another movie," he says of the PBS celebration, "but it's nice once in a while to just relax and revel in some of the nice things you've done."
U.S. & World
The day's top national and international news.
The documentary features a plethora of clips from every facet of Brooks' career, along with interviews with colleagues collaborators like Reiner, Matthew Broderick, Nathan Lane, Cloris Leachman, Joan Rivers and Tracey Ullman – but the wealth and depth of Brooks' prolific output coalesced into a clearer vision of the entertainer.
"What emerged was what a singular voice he is in comedy," says "Make a Noise" filmmaker Robert Trachtenberg, "because as I did the research, and as I started to talk to people, I quickly realized that from his generation, his concerns were not the concerns of any of his contemporaries. He wasn't concerned with mother-in-law jokes. He wasn't concerned with my-boss-is-so-horrible jokes. He wasn't concerned with I-came-home-and-the-kids-were-blah-blah-blah jokes. He was thinking on a whole other plane that incorporated history and literature and religion."
Brooks says his humor wasn't fueled by any childhood angst or inner turmoil – he just loved making people laugh, something Melvin James Kaminsky (his real name) learned as a 16-year-old standup comic working in the Catskills. "I used to go out on stage and say, 'Ladies and gentlemen, relax – you're in for a memorable night of comedy.' I swear to God, I'd say that. 'I am really good – you don't have to worry. You're going to be thoroughly, happily entertained, and you'll wish that the evening never ended. That's how good this is going to be. So don't worry! Don't murmur anymore about "Who is this guy?" And I was really insanely confident. I had no reason to be, but I just felt it."
Eventually he found his way onto the nigh-legendary writing staff for "Your Show of Shows" – a pantheon of future comedy rainmakers that included Reiner, brothers Neil and Danny Simon, Larry Gelbart, Mel Tolkin and later a young Woody Allen – and Brooks happily toiled away out of the spotlight. "I had an incredibly talented vehicle for my comedy, for my passion, and that was Sid Caesar," he explains. "Nobody was as brilliant and as funny as Sid Caesar, so I put my ego aside, and I just wrote my heart out for him. And he always delivered… I learned a great deal from Sid."
The now classic "2000 Year Old Man" routines – originally derived from improvised skits he and Reiner would do for friends at parties – made Brooks a star, with their comedy albums topping the charts and their live performances a staple of variety TV shows in the early '60s – they became icons of cool for pre-hippie coffee house crowd. "It really was a fantastic run," chuckled Brooks. "I really bathed in it. I loved being with Carl on stage and playing the 2,000 Year Old Man. Believe it or not, I did the least work and got the most return in terms of the laughs, because Carl was the architect. That was the most successful character we created, but he did most of the work. The genius of that is Carl Reiner figuring out what our place was in entertainment."
"They're so profound those, albums," says comedian – and future Brooks film actor – Richard Lewis ("Robin Hood: Men In Tights"). "I was only 13 or so when I heard '2,000 Year Old Man,' and I sat there. I was transfixed in the same way when I was 18 and in college and heard Lenny Bruce's Berkeley album, or later with Richard Pryor. I said, 'This is the bar.'"
Brooks parlayed his celebrity and comedy cachet into a new career, writing and directing feature films, beginning with "The Producers" and its landmark, intentionally-doomed-to-fail musical "Springtime For Hitler," which announced the nascent auteur's risk-embracing approach to wringing comedy out of touchy subjects (and marked the first of many successful collaborations with the equally daring Gene Wilder).
"Blazing Saddles" in particular introduced a new high in new lows, with its outrageous use of racial slurs and the scatological symphony of the infamous "farting scene."
"People couldn't believe it," Brooks says, recalling early reactions." I used to go into the movie house when the farting scene was just about to come on, and there would be such strange sounds at the beginning: 'What?' Oh…' And then: unrestrained, unrestricted laughter, where some people actually fell out of their seats and rolled down the aisles. I mean, there was no better payment – from God, from the world – to then see a couple hundred people out of control with laughter. You knew that you had done something sacred and marvelous."
Trachtenberg says Brooks' comedy wasn't just about tipping over sacred cows – there was a method to his meshuggah. "Andrew Bergman who co‑wrote 'Blazing Saddles,' says he broke the doors open in what you could do and get away with. And still today, you look at it, and your jaw's a little on the floor, that 40 years ago he got away with it! He absolutely influenced Trey Parker and Matt Stone of 'South Park' and Judd Apatow. They always cite him as an influence, and he's a little shocked at how far it goes."
"I love that," enthused Brooks of the subsequent generation of boundary-pushers who took inspiration from him. "I love 'South Park.' I think it's a great show, and I do think that in a way I did break some of the ground that they're treading now. Also, I feel that l 'Django Unchained,' owes a salute to 'Blazing Saddles.' So I'm very proud of Quentin Tarantino. I think he's a very crazy, brave filmmaker. I love his work and I think he's wonderful."
Along with helming his own string of hits frequently populated by an ensemble of favorite screen eccentrics – most notably Wilder, Leachman, Madeline Kahn, Dom Deluise, Harvey Korman and Marty Feldman – his production company Brooksfilms was also responsible for several acclaimed films, including "The Elephant Man," "My Favorite Year" and "Frances." "Working with him is a total delight, and you're going to laugh a lot," says "My Favorite Year" director Richard Benjamin. "But he's also really smart. He's a great producer, and when you need him, he's there. And when you don't need him, he doesn't bother you at all. You just go ahead and make your movie."
He's a little more hands-on when it comes to his own films. "Just shut up and do what he says, and no one gets hurt," chuckles Amy Yasbek, who appeared in Brooks' "Robin Hood: Men In Tights" and "Dracula: Dead and Loving It." "When I was in school and everybody's like, 'Someday I'm going to work with Scorsese. Someday I'm going to work with Woody Allen...' I'm like, 'Yeah – no. If I could work only work with Mel Brooks...' And when it actually happened to me, I was living the dream…He mentored me. He fathered me. He really took care of me on the set and just made me feel comfortable, and was also really sassy and appreciated my sass right back."
It's clear that if any sort of satisfaction eluded him during his most prolific years, it's the fact that his films' uproarious antics often overshadowed the artistry that he brought to the table.
"I wanted the artistry to be there but never to star it, never to be evident," he says. "When I did 'Young Frankenstein,' there was a lot of art in it, and there's a lot of classy stuff, but I wanted to hide it behind the comedy. I always wanted it to be in the salute to James Whale, to this brilliant filmmaker that did 'Frankenstein,' 'Son of Frankenstein,' and 'Bride of Frankenstein' – amazing work. And I wanted to salute that work, that incredible cinema."
There's still a bit of lingering sting that his auteur abilities went unacknowledged at the time – though he took home an Oscar for his screenplay for "The Producers," he was never nominated for directing. "Billy Wilder said and Alfred Hitchcock, two friends of mine, said 'You should have won the Academy Award for "Young Frankenstein." It's the best direction ever in film.' And I was never even recognized."
This year, however, he's getting his due from the American Film Institute, receiving their Life Achievement Award in a lavish ceremony airing on Turner Classic Movies June 15 and 16, complemented with salutatory showings of several of his films. "AFI is really the ultimate salute to film direction," says Brooks, before wisecracking "What it is really is a roast, but they disguise it as some kind of classy film award. But I don't mind, but it's nice to be recognized because I've done a lot of film as an auteur, as a writer/director, and they leave out the director part. I didn't get that payoff."
Broadway, of course, adored him, showering his musical adaptation of "The Producers" with Tonys – and in many ways, the format was the most appealing to the showbiz-loving kid who first hit the stage in the Catskills. "There's nothing like a live show on Broadway with a Broadway audience – nothing like it!" he enthuses. "It's the greatest payoff. You do a movie, you've got to wait a year or two before you can actually see it with an audience, all that work, and then you're on to something else. But it's all one piece if you do something for Broadway, and if you have an out of town…in Chicago when we did 'The Producers.' I burst into tears every night. I couldn't believe people were standing, cheering at the end of it. I couldn't believe all the giant laughs we got with Nathan Lane and Matthew Broderick on stage."
Brooks, who turns 87 in June, says he's planning to wring a few more giant laughs out of audiences. "I'm working on a movie right now, and I'm thinking maybe 'Blazing Saddles' should move to the stage as a musical, too."
Showbiz, says Benjamin, is Brooks' lifeblood. "It's in his genes. He sees life in a wonderful, upbeat, positive way, in the face of all kinds of things. And it's a good lesson for everybody. He's made that choice to see things that way, and it's pretty great – and he's great to be around, too."
"When I was in the Catskills, I was hoping that I could get some kind of job – maybe a drummer in a touring band," says Brooks. "I never thought that I would ever be writing a TV show or starring in a movie – never! It was all one miracle after another. So I'd say it's one-third ambition and grit. Second third: talent – God-given, the gift of understanding things and turning them into comedy and knowing what to do with it. And the third is luck, pure luck. Not to get hit by a car, killed by a German bullet, and having the audience dig your stuff. Really love it."
"I mean, the farting scene could have gone either way," he reflects. "I could have done that farting scene in 'Blazing Saddles' and never worked again. Like, 'Thank you very much – you're too vulgar.'"