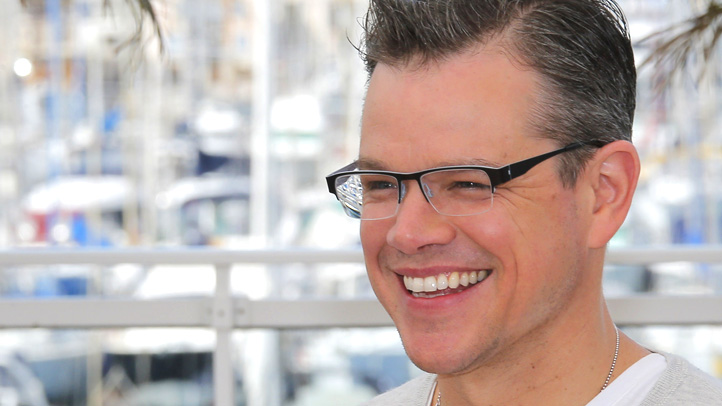 Jimmy Kimmel is reigniting his "feud" with Matt Damon.
Six months after the Oscar winner took over "Jimmy Kimmel Live" in retaliation for all the times the funnyman bumped him over the years, Kimmel sent sidekick Guillermo Diaz on a mission to crash a junket interview Damon was doing to promote his new sci-fi blockbuster, "Elysium."
And Matt was none too thrilled about it.
U.S. & World
The day's top national and international news.
"Look, man. I'm trying to do my job here. I have an interview I have to do, OK?" said Damon after the show's parking-lot security guard suddenly interrupted his sit-down.
WATCH: Matt Damon plots his revenge on Kimmel
"Me too! I have to do a junky for my movie!" responded Guillermo.
After Damon wondered just what the heck he was talking about ("You're gonna do a junky for your movie? You have a movie?"), Guillermo held up a poster for his own flick, "Estupido" with a giant arrow pointing at the "Bourne Identity" star.
"It's about a man. Who's stupid from Boston. It's basically a true story!" quipped Guillermo.
After asking his uninvited interlocutor to step out of the shot, Guillermo proceeds to plug "Estupido," announcing in Spanish that he's "very proud of this movie," which also features a friend named Ben--as in Ben Affleck, of course--"who's also stupid."
NEWS: Matt Damon has shown Guillermo who's boss before
After Damon informs him he speaks Spanish, Guillermo turns the poster around to reveal another one-sheet for a film called "Ass Face" with yet another arrow pointing at him.
"Jimmy paid thousands and thousands of dollars to fly you from L.A. to Miami to carry a sign that says 'Ass Face' with an arrow pointed at me, double-booking a hotel room so you can do this?" asked the thesp.
"Jimmy's very rich. He can do whatever he wants," laughed Guillermo.
At that point, just as Damon turns toward the camera to give Kimmel a stern message, his speech is cut off by a voice-over from Guillermo, who plugs the actor "in the role of a lifetime" in "Ass Face."
Somehow we doubt an apology from Jimmy is forthcoming. It looks like it's on again!
PHOTOS: Check out these real feuds from 2012
Copyright E! Online