A U.S. Marine was killed Thursday and 18 other service members were injured in a vehicle accident at Camp Pendleton near San Diego, California.
Six of those injured were in critical condition and eight others were in stable condition, officials said Friday. Four others have been released from the hospital.
A Medium Tactical Vehicle Replacement (MTVR) rolled over during training according to base officials. The vehicle is more commonly known as a 7-Ton truck and it's used to move troops or haul supplies in the field.
No details were given on how the rollover occurred. Basilone Road was closed from Camp Las Pulgas to Camp Horno immediately following the incident.
The name of the deceased Marine, assigned to the 1st Marine Division, has not been released, pending notification to family members.
The injured were being cared for at Scripps Memorial Hospital, Palomar Medical Center, Mission Hospital, Sharp Memorial Hospital and Tri-City Medical Center, officials said.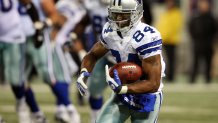 "After this tragic training accident, our first concern is for the welfare of our deceased Marine, the injured and their families," said Major General Daniel J. O'Donohue, commanding general of 1st Marine Division in a written statement.
U.S. & World
The day's top national and international news.
Camp Pendleton, near Oceanside, was also the site of an explosion that killed four Marines in November 2013. The Explosive Ordnance Disposal Marines died during range maintenance operations to dispose of an unexploded ordnance.
In January 2015, two Marine Corps officers stationed at Camp Pendleton were killed when their helicopter crashed in Twentynine Palms.