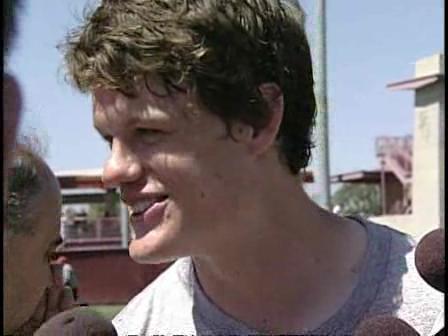 A former Marine who was arrested after police found him on the subway with a shotgun, a cache of ammunition, a laser, gas masks and a machete is a homeless veteran who hasn't received proper medical care from the Veterans Administration, his lawyer said Thursday.
Christopher Palumbo, 27, served three tours in Iraq and suffers from mental health issues, his mother said.
According to his lawyer, Daniel Lynch, Palumbo sought treatment from the VA and was "given some medication and then he's been sent back on the street."
"He hasn't received proper treatment at the VA," Lynch said after Palumbo's arraignment Thursday. "And then when he was discharged he was out in a homeless shelter, so if that's the way we're treating our vets, that needs to change."
The VA serves nearly nine million veterans and has been under fire about treatment delays and falsified records. Lynch declined to give more details about Palumbo's condition or treatment.
He was honorably discharged a few years ago, according to his mother.
Palumbo did not speak in court Thursday, days after he was spotted by witnesses who called police when they noticed a gun sticking out of his bag on the S53 bus in Bay Ridge. Police found him waiting for a Manhattan-bound R train a short time later, and asked to look in his bag, where they found the weapons, all later determined to be property of the Marines.
Palumbo told police "that he was going to stop bloodshed," his lawyer said.
U.S. & World
The day's top national and international news.
His mother told NBC 4 New York on Wednesday that her son is not a violent person. She said he feels responsible for protecting New Yorkers and is burdened by guilt that he let 9/11 happen.
Law enforcement sources say he was also arrested earlier this month trying to access the military base at Fort Hamilton with an expired ID card.
He was charged Thursday with multiple counts, including criminal possession of a weapon and criminal possession of stolen property.