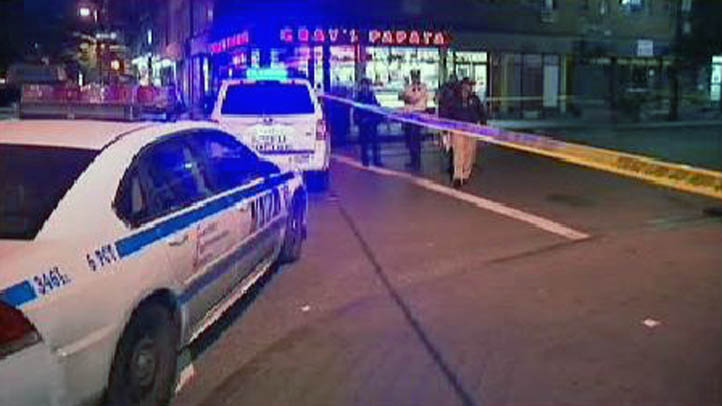 New York City authorities are investigating the deadly overnight shooting of a 32-year-old man in Greenwich Village as a hate crime after detectives learned the suspect taken into custody at the scene may have made anti-gay remarks to the victim before pulling the trigger, authorities said.
Law enforcement officials say Marc Carson, who lived on West 131st Street, and a friend were near a 99 Cent Pizza shop on Sixth Avenue around midnight when the suspect, who was with two other men, hurled anti-gay slurs at them, Carson's friend told detectives.

Carson made some remarks in response to the suspect's taunts and walked away, law enforcement sources said.

A short time later, the suspect, who was by himself, confronted Carson and his friend again near a building on West Eighth Street, and words were exchanged for a second time, law enforcement officials said. Then the suspect allegedly pulled out a .38 caliber revolver and shot Carson in the face, killing him.

The suspect ran off and police responding to the shooting put out a description of him. An officer on foot patrol saw a man who fit the description of the suspect near McDougal and West Third Streets and tried to question him, but the suspect fled. The officer chased him down and took him into custody. A silver revolver was found in his possession and charges are pending against him, authorities said.

Detectives are looking to question the two men who were with the suspect during the initial confrontation near the pizza shop, but they do not believe they were with the suspect during the shooting.

Law enforcement officials say the suspect has refused to identify himself to officers questioning him at the precinct, and he appears to have a fake ID in his possession.

Police are reviewing surveillance video from the area.

Before the shooting, police say the suspect had a separate confrontation with a manager and bouncer at the West Village restaurant Annisa on Barrow Street. Both men told detectives the suspect made anti-gay comments and threatened them.

State and local officials blasted the slaying Saturday, citing a spike in alleged anti-gay crimes in Manhattan over the last several months.

On May 10, police said a gay couple was attacked on West 32nd Street and beaten so severely that one of the men needed eye surgery. Days earlier, another gay couple was assaulted by a group of men in the same area near Madison Square Garden.