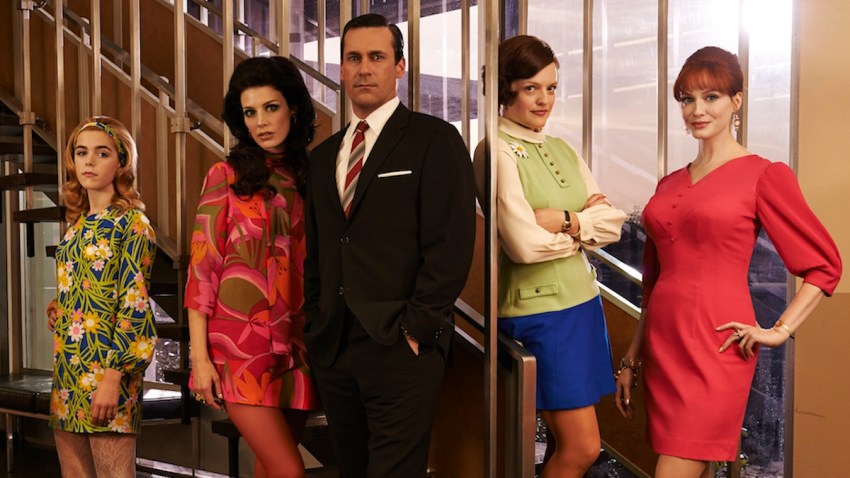 During the most recent episode of "Mad Men," Peggy Olson struggles over an ad she's come up with for the old Burger Chef chain featuring a perfect American nuclear family straight out of 1955. The only problem is that it's 1969.
"Does this family exist anymore?" she asks her mentor-turned-rival Don Draper in exasperation.
Peggy's query – even with its obvious answer (no) and the question it begs (Did this kind of family ever really exist?) ­– marked one of the defining moments of the AMC drama's seventh and final season (or, rather, half-season).
U.S. & World
The day's top national and international news.
As the first half of the farewell season ends Sunday with the series' final episode a year away, "Mad Men" seems to be expanding its scope from one man's identity search to the shifting meaning of family.
For Don Draper, who was born Dick Whitman, the dirt poor, orphaned farm boy son of a prostitute who died in childbirth, advertising provided not just economic salvation but a vehicle to forge an idealized self. Don thrives on creating illusions of perfect family life in ads that tout happiness through products.
It's a ride he's piloted from his pitch for Kodak's Carousel slide projector in Season 1 ("It takes us to a place where we ache to go again") to last season when a similarly nostalgic rhapsody about Hershey bars flew off the rails and turned into a sordid, near-career ending confession about being reared in a brothel.
Don Draper needs advertising even more than he does booze. How else to explain his uncharacteristic acquiescing to return to the ad firm under conditions that could cost him his lucrative partnership with one misstep? Those conditions also put him under the supervision of Peggy, part sister figure, part daughter figure – or at least one of the few young female characters Don hasn't tried to conquer sexually.
Don and Peggy reached a rapprochement in the most recent episode, the strongest so far in a season brimming with fractured families. Silver-haired ad firm partner Roger Sterling unsuccessfully tried to retrieve his daughter Margaret – now Marigold – from an upstate hippie commune after she left her husband and young son. Don's child-like first wife Betty melted down over her young son, Bobby, giving away her sandwich to a female classmate on a school trip. (At least Don and his troubled daughter Sally seem to be mending their relationship amid his newfound openness about his past.)
The mysterious Bob Benson, whose status as a closeted gay man was confirmed in the latest "Mad Men" installment, proposed a marriage of convenience to firm partner Joan Holloway. The single mom turned him down, saying, "I want love and I'd rather die hoping that happens than make some arrangement."
Junior partner Pete Campbell, whose life mirrors Don's in some respects, can't relinquish control over the wife and daughter he left in New York – and can't deal with his independent girlfriend in Los Angeles. Don's also lost his actress wife, Megan, to the West Coast – not even the ménage a trois she pulled him into made him happy.
The most recent episode featured an even odder trio in a chaste, but telling scene: Don, Pete and Peggy sitting in a Burger Chef, eating and laughing like a de facto family. Don, of course, is the only one who knows about Pete and Peggy's secret child together. Peggy finds the ad's tagline in their fast-food dinner, "Every table is a family table."
It marked a meta moment for the show – the ad makers became the ad. The Burger Chef spot might represent a breakthrough beyond the nostalgia Don's made a career of peddling – or it could just be his leap into a new branch of illusion.
At least Don is moving forward: Amid rapidly changing times, he feels threatened by the mammoth new computer humming outside his office – but not as much as copywriter Michael Ginsberg, whose mental breakdown leads to self-mutilation in the most disturbing scene of this run. Even with his own disgusting gift of himself to Peggy, Michael, in his own pathetic way, is trying to make a human, familial connection.
There's little doubt that Don, who pounds out his ideas on a typewriter, is far more intricate than any machine. In the latest episode, Peggy uttered another key line of the season, perhaps one of the most important of the series: "Show me how you think," she implored Don.
We're watching – and will soon be waiting. In the meantime, check out promo for the half-season finale, ominously titled, "Waterloo":
Copyright FREEL - NBC Local Media