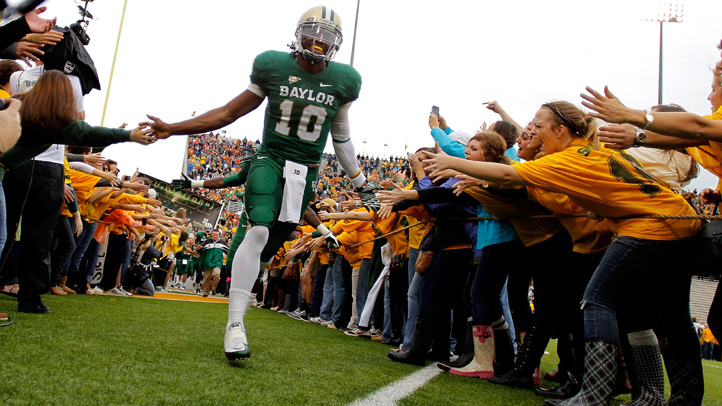 One of the odd things about the upcoming 2012 NFL Draft is that the biggest story surrounding that event was more or less resolved ages ago. Jim Irsay can deny it all he likes, but the Colts are taking Stanford QB Andrew Luck to succeed Peyton Manning. They aren't trading the pick. They aren't picking anyone else. They're not hemming and hawing over which QB they like the best. It's Luck.

Where the draft gets a bit more interesting is at the NEXT pick, which is St. Louis at No. 2. It seems inevitable that Heisman Trophy winner Robert Griffin III will be drafted at that slot. The mystery, of course, is... what team will end up picking there?

The Rams are in something of an odd position. They already have a franchise QB in Sam Bradford, to whom they lavished $50 million upon prior to his rookie season. The problem is that Bradford regressed last season (to be fair, owing largely to circumstances beyond his control), and the Rams just cleaned house at coach and GM. There's no telling if the new Rams GM will be in favor of keeping Bradford, or perhaps abandoning him prematurely and going with his own guy in RGIII. It would be a bold move, perhaps an idiotic move, but it is feasible.

But doing that would prevent the Rams from perhaps reaping a bonanza of picks from QB-starved teams that would be dying to move up for Griffin. Remember: The Colts aren't trading that No. 1 pick. Griffin is the next best thing available, and he's even more valuable now that Landry Jones and Matt Barkley have returned to school. So which team will make a play and move up? Consider these odds:

Browns (3/1): Colt McCoy isn't the answer, no matter what Peter King says. That team is in dire need of relevancy, and surely they saw what Cam Newton did for Carolina in just one season. And remember: The Panthers already had Jimmy Clausen and drafted Cam anyway. That team MATTERS now. Griffin would be the most electric player to hit the new Browns since their return in 1999. They need to do this. They're idiots if they just keep plowing ahead with middling QB talents.

Redskins (4/1): They have to do something. They need a QB desperately, and some random third rounder isn't gonna fill the bill. That franchise is dying slowly and only Griffin provides the energy and excitement to reinvigorate the entire fanbase. The problem is that the Skins have such a long and storied history of burning draft picks that the idea of trading away a first-round pick next season and other picks may induce flashbacks and prevent the team from making an obvious move.

Dolphins (10/1): At the 8 or 9 slot (to be determined by a coin flip), the Dolphins won't have the same kind of ammo to trade up as the Skins or Browns. But if either of those teams is too passive, then the Phins could swoop in and make them look like idiots.

Chiefs/Seahawks (20/1): Again, both are too low in the draft to move up. Almost a shame the Chiefs beat the Packers, now that you think about it.

Jets (50/1): Anyone looking to trade for a lazy, spoiled QB?

Cowboys (50/1): I think Jerry Jones loves Tony Romo too much to ever do something like this, but you never know when the Double J will go crazy and make some sexy deal so that his team can stay on that there primetime teevee four games a year.

Jaguars (100/1): Is it too early to say that Blaine Gabbert sucks? Because I'm not sure it is.