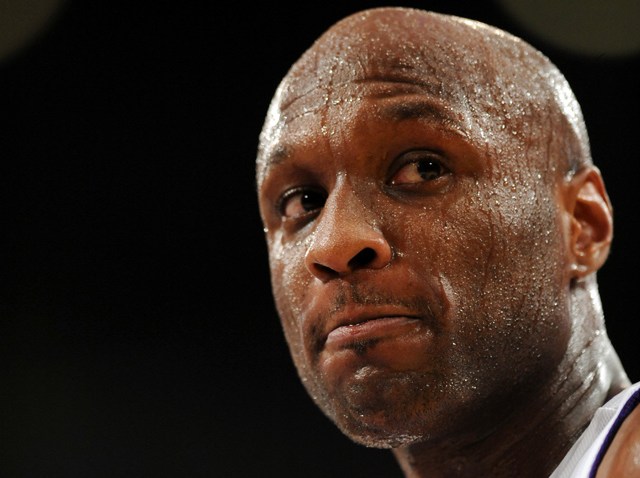 Lamar Odom tried to play negotiations poker with Lakers owner Jerry Buss. He tried to use Portland and Miami as leverage. He tried to get every dollar he could, and in the process left Lakers fans on pins and needles.

And in the end, he signed with the Lakers for pretty much exactly what Buss wanted him for. But he also, as promised, apparently gave the Lakers a hometown discount.

ESPN broke the story that Odom will return to the Lakers, agreeing to a four-year, $33 million deal that has the fourth year at the Lakers option. That is less than the four-year, $36 million deal Buss is said to have pulled from the table a week ago after Odom's camp didn't respond to the offer and instead started negotiating with Miami.

Those negotiations left Lakers fans twisting in the wind. Odom's people would consistently talk up the Miami offer (it's about creating leverage), and talk about the lack of sales tax there. Miami star Dywane Wade was public about his lobbying of Odom, begging Odom to come to South Beach on Twitter and to anyone that would ask. Meanwhile the Lakers brass, as is their style, remained largely quiet.

Buss played the hand perfectly. He knew Odom wanted to be in Los Angeles, and he knew what Miami had offered and that he was offering more money per year (just fewer years). He knew in the end Odom was not going to leave millions of dollars a year on the table for the security of a couple more years in Miami.

Odom said during the season that he loved life in Los Angeles and wanted to stay here, and that he was willing to offer a hometown discount. And despite the very public efforts to leverage the Lakers, he meant that — Odom turned down a more lucrative five year, $40 million offer from the Portland Trailblazers, and up-and-coming challenger to the Lakers.

With Odom back in the fold the Lakers may not have a true challenger (if they stay healthy). The core of the team — Kobe Bryant, Pau Gasol, Derek Fisher and now Odom — is back and they have added Ron Artest and his tenacious defense to the mix. Cleveland may have gotten Shaq, Sheed may be in Boston, the Spurs may have geared up for one more run, but there is no doubt now the Lakers are the team to beat.

And Odom likely will be taking part in another parade or two in the coming years.

Kurt Helin lives in Los Angeles where he is runs the NBA/Lakers blog Forum Blue & Gold (which you can also follow in twitter).
Copyright FREEL - NBC Local Media