Two years to the day after nine people, including Kobe and Gianna Bryant, were killed in a helicopter crash, a Los Angeles sculptor placed a statue of the basketball superstar and his daughter at the hillside site where they died.
Artist Dan Medina, of West Hills, said he brought the 160-pound bronze statue with him on a 4 a.m. hike to the crash site in the hills above Calabasas. The normally 24-minute hike to the site took Medina nearly two hours after his wagon carrying the statue broke down.
"I started at 4:30 in the morning and it took me over an hour and half to do a 24-minute hike just because of the weight of the design," said Medina. "I did have the cart break down halfway, but as Kobe would say, 'don't let that stop you.'"
Bryant and 13-year-old Gianna were among nine killed when a helicopter went down at the location northwest of Los Angeles on the foggy morning of Jan. 26, 2020.
The artwork depicts the Lakers legend with his arm around his daughter as she holds a ball. Both are wearing basketball uniforms.
"I learned early on that when they [Kobe and Gianna] were together, his smile was bigger than it was at any other time," said Medina of what inspired the statue's design." Their relationship was powerful."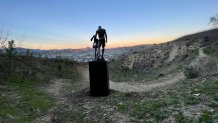 Medina added the names of all nine helicopter crash victims to the base of the statue. They are Christina Mauser, who helped coach a girls' team with Bryant; Sarah Chester and her daughter Payton, also a basketball player; Orange Coast College baseball coach John Altobelli, wife Keri and daughter Alyssa, another team member; and the helicopter pilot, Ara Zobayan,
U.S. & World
The day's top national and international news.
"It was important for me to include the other seven victims so that they and their families will also have somewhere to come and pay tribute to their loss," said Medina.
It includes the words, "Heroes come and go, but legends are forever."
Since its placement on the crash site, fans have been leaving pictures, flowers and cards at its base.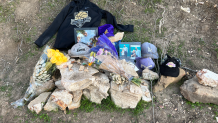 All across Los Angeles, fans dedicate more murals, shrines and pieces of art to honor Bryant's enduring legacy.
"We're keeping his memory alive," said fan Keyaria Allen. "[We're] making sure the young ones still know about Kobe."
The statue is a smaller version of a statue that Medina has at his studio and he's hoping the media attention he's getting from his statue will lead to a permanent memorial at the crash site and a permanent home for his seven-foot statue of the same design somewhere in downtown Los Angeles.
"This is my attempt at creating some momentum to create a permanent memorial on site," said Medina. "Secondly, and more importantly, to take the life size version of it and install that somewhere in downtown LA."
"You come up here and it is kind of emotional," Medina told the LA Times. "The flowers, the jerseys, the hats blow away, and I think we need something more permanent. I kind of want to follow the law, respect the locals, respect the Santa Monica Mountains."
The helicopter was flying the young basketball players and family members to a girls basketball tournament when it crashed into the hillside.
The group, which formed a bond through sports, was on its way to a the Mamba Sports Academy in Newbury Park. The Sikorsky S-76B left John Wayne Airport in Orange County just after 9 a.m., then made a U-turn in the Calabasas area, climbed and then made a steep descent.