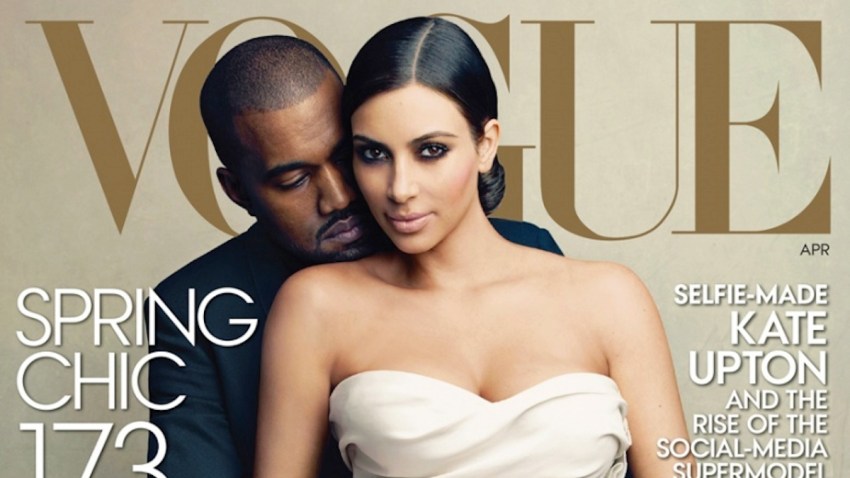 Following months of rumors that rapper Kanye West was courting Vogue editorial director Anna Wintour in a bid to get his fiancee Kim Kardashian on the cover of the fashion bible (the famed editrix even attended his "Yeezus" tour in Brooklyn), the highly-publicized couple grace the front page of the magazine's April 2014 issue.
Shot by celebrity photographer Annie Leibovitz, Kardashian is featured in a variety of gowns that could easily double as wedding attire. Kardashian and West have said they will tie the knot sometime this summer in Paris. Kardashian told Ryan Seacrest in February that she and West will be having a "super, super small intimate" wedding. No date has yet been revealed for the nuptials.
West sticks to black ensembles throughout much of the shoot - a behind-the-scenes video can be seen below - as the pair pose in a private jet, next to a luxury car and in the desert. Even baby North West makes an appearance, decked out in white just like mom Kim.
U.S. & World
The day's top national and international news.
Perhaps the most surprising aspect of the video and images is how happy Kanye looks. Gone is his trademark scowl, replaced with smiles and looks of contentment.
Kardashian took to Twitter and Instagram to share her excitement over the cover:
This is such a dream come true!!! Thank you @VogueMagazine for this cover! O M GGGGGG!!! I can't even… http://t.co/CbD5ThUqor — Kim Kardashian (@KimKardashian) March 21, 2014
Photo: Annie Leibovitz for Vogue