Never underestimate Kevin Smith's love for Veggie Grill.
The filmmaker and comedian, perhaps best known for his role as Silent Bob in the film "Clerks" and related spin-offs, asked his Twitter followers Monday for help in getting Veggie Grill, a fast-casual vegan restaurant, during a layover at Chicago's O'Hare Airport.
This is how it all went down:
"Flying back to Vancouver from St Louis in the a.m. I have 95 minute layover in Chicago - where there is a @VeggieGrill by The Loop. Do I risk missing my flight and try to make it from @fly2ohare to #VeggieGrill before my next flight or is that nuts? Thoughts from any Chicagoans?" he wrote.
When Twitter users said no, he put out a call.
"CHICAGO! I'm told my @VeggieGrill Run won't work. The only way to make it happen is to have someone deliver the food to me at @fly2ohare! So - the VG at 204 North Wells opens at 10:30. My flight lands at 11. Any Chicagoans up for this? I'll pay $200 and a photo (if you want one)," he wrote.
While it remains unclear if Kevin Smith truly just wanted some delicious vegan cuisine or if this was all a secret marketing strategy, the hilarious saga all played out in real time on social media.
Enter: @Im_Alex_Smith.
U.S. & World
The day's top national and international news.
"Hey i'm not doing anything right now, i live by a different one and could use the money," he replied.
And that's how "the epic Veggie Grill Run" began.
Alex Smith "put on pants" and headed to the Veggie Grill on Wells Street in Chicago's Loop.
But the journey quickly hit a bump in the road when Kevin Smith's plane took off from St. Louis and he couldn't send Alex Smith his order.
"I'm about to just order one of everything, unless someone knows his order," Alex Smith tweeted.
Thankfully, the general manager at Veggie Grill knew some of Kevin Smith's favorites.
"I saw a video a couple weeks ago of him kind of talking about how much he loves Veggie Grill," said the general manager of the Wells Street Veggie Grill, Alexandra Neal. "I know a little bit about what he likes. I know he likes the buffalo wings."
After some research and with Neal's help, Alex Smith ordered buffalo wings, a Nashville hot chicken sandwich, crispy cauliflower, tempura green beans and a Beyond Burger.
The total? $48.05.
But wait, then there were the nachos.
"Finishing up the order and i'll be on the way. I guessed mostly and got it right, just needing to get the nachos," Alex Smith wrote just before 11 a.m.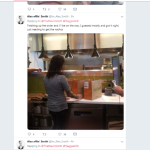 The suspense had many fans on social media on the edge of their seats.
"This is the most excited I've ever been about food I'm not going to eat," one user wrote.
"This is potentially the most exciting and spiritually uplifting thing that could happen to me all day," another user tweeted.
Just after noon, Kevin Smith shared a video of their success.
"WE DID IT! @Im_Alex_Smith made the @VeggieGrill Run from The Loop to @fly2ohare in time for me to enjoy a little piece of home right here in Chicago's airport!" he wrote. "Many thanks for being The Bandit, sir! It was an adventurous, delicious layover!"
Delicious and expensive. Alex Smith confirmed to NBC 5 that Kevin Smith did pay the $200 for the food "even though I was hesitant to accept it."
"This is all very silly. And very wild," he wrote.