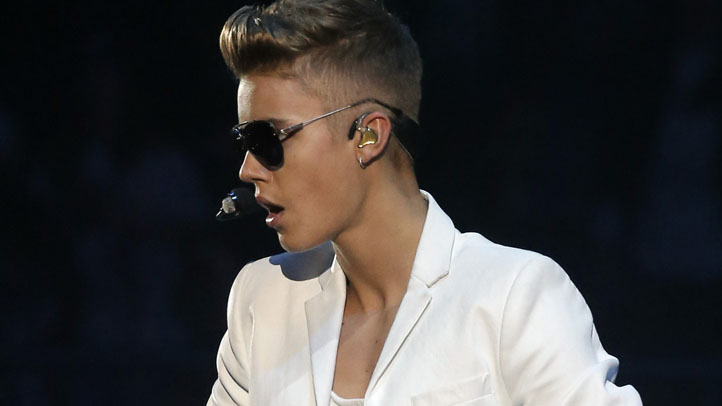 Justin Bieber might want to believe in the legal system.
Because that's where he's about to end up, now that a photographer is suing the teen heartthrob for allegedly ordering his bodyguard to attack him.
The lawsuit was filed in Miami-Dade County Circuit Court on behalf of 56-year-old shutterbug Jeffrey Binion, who alleged that Bieber sicced his security aide, Hugo Hesny, on him as he was shooting the "Baby" singer outside The Hit Factory recording studio in Miami on June 5.
U.S. & World
The day's top national and international news.
PHOTO: Justin Bieber posts twitpic of fan-flung bra onstage
According to the complaint, Hesny and three other bodyguards threw Binion up against a wall, grabbed him by the throat and choked him, then flashed a gun in an attempt to forcibly remove the memory card from his camera.
Court docs were quick to allege that Hesny is not licensed to carry a firearm and ultimately blamed Bieber for the bust-up.
"By instructing Defendant Hesny to forbily take Plaintiff's memory card from his camera, Defendant Bieber intended to cause harmful or offensive contact with the Plaintiff, and a harmful and offensive contact with the Plaintiff resulted from Bieber's conduct," read the suit.
Binion is seeking more than $15,000 in compensatory damages from the bodyguard as well as the same amount from the Biebs after suffering bodily injury, pain and suffering, mental anguish and other medical expenses.
"Justin Bieber is now an adult, and he should act like one. He needs to learn that he cannot use bodyguards as weapons to harm innocent people," said Binion's attorney, Russell Adler. "Bieber's campaign of violent behavior toward photographers must end, and he should take responsibility for his actions."
He added: "No amount of fame or fortune justifies Bieber's shameful and outrageous conduct. To send him that message and deter his misbehavior in the future, we will seek punitive damages against him as allowed by Florida law."
Bieber's camp has so far yet to comment.
Copyright E! Online