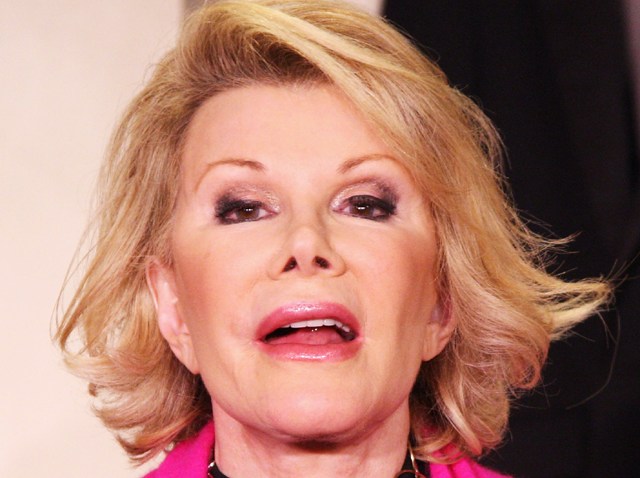 Joan Rivers has been known to look kind of scary at times, but no one's ever mistaken her for a potential terrorist – until now.
The ever-hysterical plastic-surgery poster woman was kicked off a Newark-bound Continental flight from Costa Rica on Sunday after a security agent deemed the two names on her passport suspicious, according to published reports.
Rivers' passport has her listed with two last names – Rivers, which she adopted before she went into show business, and Rosenberg, the surname belonging to her late husband.
U.S. & World
The day's top national and international news.
Once the gate agent saw the two names on the passport, she told Rivers she couldn't get on the flight. And thus the 76-year-old comedian was left alone (her daughter had flown out earlier that day) in the Central American country with no debit card and a mere $100 in cash, reports the Daily News.
Fortunately, a kindly porter took pity on Rivers and found someone to drive her nearly seven hours to Costa Rica's main airport in San Jose, where she was able to catch a flight back on Monday – a day behind schedule.
Back home in Manhattan, Rivers was able to make light of her traveling ordeal.

"If I were going to make up an alias, I wouldn't pick Rosenberg. I'd pick Jolie or Pitt," Rivers told the News. "Do terrorists wear Manolo Blahniks? I can tell you Donna Karan does not make anything that hides a bomb."
Security has been ramped up at airports across the country in recent weeks after a Nigerian national allegedly tried to blow up a Detroit-bound plane on Christmas Day by igniting a bomb in his underwear.