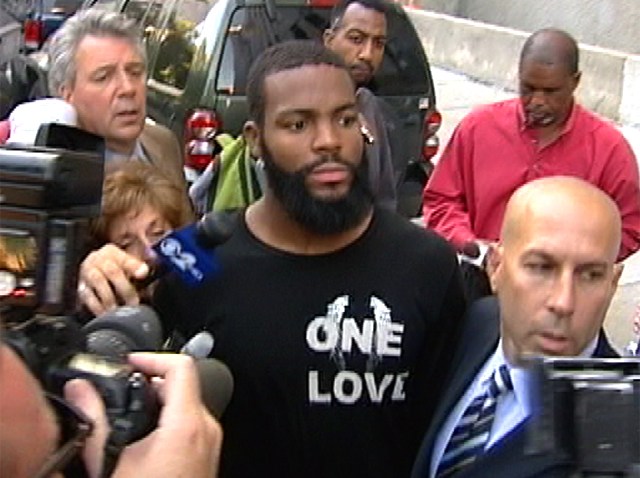 The judge must be a Jets fan.
Gang Green wide receiver Braylon Edwards was released on his own recognizance Tuesday afternoon after showing up in court to face charges that he was driving while drunk overnight.
Prosecutors had asked for $2,000 bail, but Judge Frank Nervo decided to let the wide out go free. Edwards' next court appearance is set for Nov. 9 -- two days after the Jets play and early Sunday game against the Lions in Detroit.
U.S. & World
The day's top national and international news.
Edwards didn't enter plea and said little more than "that's fine," and "thank you," before heading out into a gaggle of paparazzi and a waiting black Range Rover with tinted windows.
A key factor in Sunday afternoon's bombshell win over the New England Patriots, Edwards was been arrested for driving while intoxicated hours after attending a teammate's charity poker game.

The offensive player, who's been dubbed the No. 1 wideout pending the return of suspended receiver Santonio Holmes, was busted early this morning in the city after blowing an 0.16 -- double the state's legal limit -- on a Breathalyzer test, prosecutors said.
In court today, Assistant District Attorney Alyssa Gunther said Edwards told the arresting officer, "I had a couple of drinks."
Edwards then allegedly got into a discussion about field sobriety tests versus Breathalyzers with the officer, who is a woman.
"Aren't you supposed to give me a field sobriety test first?" Edwards asked the cop, according to Gunther. "They do it in Michigan."
Then No. 17 allegedly told the cop, "We were coming from a party -- how about I leave the car and take a cab home?"
Edwards told the cop at the 4:47 a.m. stop that he had had his last drink "about an hour ago," according to Gunther.
The Jets released a statement Tuesday morning condemning Edwards' alleged behavior and pledging to investigate.

"We are very disappointed in Braylon's actions this morning. The Player Protect program is in place for our organization to prevent this situation. Braylon is aware of this program and showed poor judgment," the statement read. "We are reviewing the information with the league and will impose the appropriate disciplinary measures."
Edwards' lawyer, Peter Frankel, outside of court said the Jets hadn't suspended the player yet.
Frankel said Edwards is very anxious to get back to the team, and he realizes the seriousness of the situation.
Cops originally pulled him over for heavily-tinted windows but smelled a strong odor of alcohol on his breath.
A source said there was a female in the car with Edwards and three other men, including Jets offensive lineman D'Brickashaw Ferguson and defensive lineman Vernon Gohlston. They were not charged with any crimes.
Police pulled over Edwards about 5:15 a.m. on 34th Street and 12th Avenue. Authorities said Edwards, who still holds an ID from Michigan, where he was a college stud, was cooperative throughout the investigation.

Edwards caught five passes for 45 yards and a touchdown in Sunday's 28-14 win over the Patriots. He also caught a pass for a critical two-point conversion. If he were to be suspended, No. 3 wide receiver Jerricho Cotchery would have to step up and take his place until Holmes returns from a four-game suspension in Week 5. Edwards' absence would also leave only Brad Smith, who injured his jaw Week 2 and had to leave the game, and third-year David Clowney, who's caught 15 passes -- one for a touchdown -- in his tenure with the Jets.

Gang Green takes on division rival Miami Dolphins, which routed Brett Favre and the Minnesota Vikings last week, on Sunday night.

An NFL spokesman told ESPN that DUIs are considered under the league's substance-abuse policy, which incurs no automatic suspension under any circumstances. The league hasn't commented on how it may apply in Edwards' case.

This isn't the first time the former Cleveland Browns' receiver has run afoul of the law. Prior to being traded to Gang Green last October, Edwards was accused of punching LeBron James' friend outside a nightclub. He ended up settling the case with a no contest plea to aggravated assault and was fined $1,000, put on probation and sentenced to a 180-day suspended jail sentence.