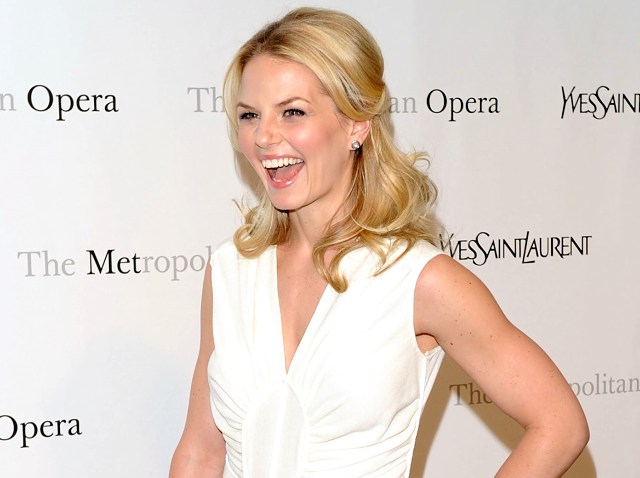 "No more lab coats!" exclaims Jennifer Morrison, who's ditched her "House's" oh-so-serious scrubs to join the cast of "How I Met Your Mother."
Morrison, who spent six seasons as Dr. Cameron on the Fox medical drama, is decidedly giddly over her new role as Zoey, who looks like she just might be the definitive future mother of Ted's (Josh Radnor) long-listening children – even if she's currently already got a husband, The Captain (Kyle MacLachlan).
"I think they're doing a really fun thing with this character, which is that they have established so much conflict at the beginning and so many reasons why Ted can't be with her that it's fun for that puzzle to completely unfold," says Morrison.
"There's all this conflict and intrigue: 'Is she gonna stay with her husband or not?' and all this stuff," the actress says. "Next week is the Thanksgiving episode where you get way more insight into all of that, and that's when Zoey actually meets the whole rest of the gang and spends some time with them. You get to see how we all interact, and that sort of puts everything on another track. They keep saying that there's some pretty crazy stuff coming up."
U.S. & World
The day's top national and international news.
Behind the scenes, Morrison's been accepted into the fold by her co-stars even more warmly than Zoey. "They've been so welcoming – I mean, my goodness, they've been working together for six years, and the fact that they just, with open arms, like, 'Come, we love you.' I feel so included!"
"Honestly, I literally wake up and get to work an extra hour early every morning," she laughed. "They're like 'You know your call times in an hour?' I'm like 'I know, I know – I'm just so happy to be here!' But I'm sort of a nerdy fan of the show as well. It's just fun to be goofy and silly – I have no complaints about 'House,' either, but after six years of being very serious, I think it's kinda nice to let loose a little bit."