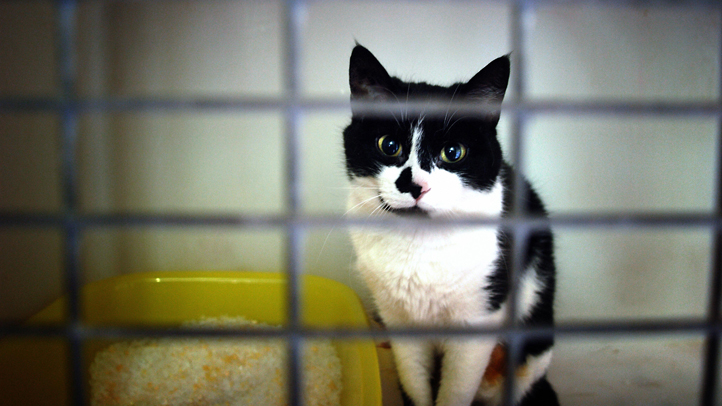 An Iowa City man has been charged with stealing his own cat from an animal shelter after it was impounded for running at large, the Press-Citizen reported.
"I'm going to fight it," Justin Kaufman, 31, said Monday, calling the incident "extremely ridiculous."
Kaufman said his cat, Smokie, has gotten out a few times before and been picked up by animal services in the past. Kaufman had the cat, which he adopted from the shelter in June 2011, fitted with a tracking device.
U.S. & World
The day's top national and international news.
According to an Iowa City Police criminal complaint, when Kaufman went to pick up his cat Saturday afternoon at the Iowa City Animal Care and Adoption Center, an employee charged him a $35 reclamation fee because Smokie did not have a license.
Kaufman said he told the employee that he was not charged a fee the last time he retrieved Smokie from the shelter.
According to Misha Goodman, director of the shelter, that's because animal services had twice waived fees for the Kaufman family when they were unable to pay for a new license.
"We were trying to be nice and get this cat back home," she said.
After Kaufman protested the fee Saturday, a shelter employee went to speak to the manager about it. According to the criminal complaint, Kaufman then entered a restricted area to retreive Smokie from a cage, put him in a carrier and returned home.
Iowa City police came to Kaufman's home later that day and threatened to charge him with burglary from a government institution and take him to jail, Kaufman told the Press-Citizen.
He was fined $95 for having a cat at large, in addition to the orginal $35 fee from the animal shelter. Police also charged Kaufman with fifth-degree theft.
Kaufman said he will plead not guilty to the charge. He sent Smokie to live with a his sister in Dubuque to avoid future problems.
"I can't be getting charged with bogus, trumped-up charges every time he gets out," he said.