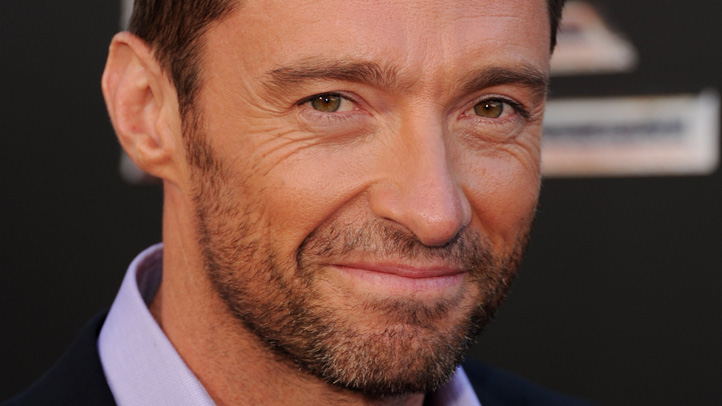 Hugh Jackman's son, Oscar, is realizing his dear old dad is pretty useful when it comes to helping the pre-teen out with the ladies.
"I have heard my son in the past kind of talk to other people about what I do, particularly girls. He's right into girls, like around 14-year-old girls," Hugh told Access Hollywood on Wednesday as he promoted "Hugh Jackman, Back on Broadway," his new one-man show in New York City. "He went up to these girls at the beach in Australia and they're in their bikinis … and he's just chatting to these girls, and I'm like, 'Wow!' And I'm sort of sort overhearing, and he's like, 'Yeah, my dad plays Wolverine.'
VIEW THE PHOTOS: Hollywood's Hottest Mutant Hugh Jackman
U.S. & World
The day's top national and international news.
"He comes running up and he goes, 'You've gotta sign some autographs – now! Now!'" Hugh recounted. "My son will not let me sign autographs for anyone. He's like, 'Why do they want your autograph? This is my time with you!' That day, forget it! I was signing autographs, pictures. I felt very strange. I was kind of pimping for my 11-year-old son."
One thing Oscar doesn't find totally cool is Hugh's donning of skintight gold pants as Hugh reprises his role as Peter Allen, the role he previously played in "The Boy From Oz," and who crops up in his new one-man show. But Hugh, himself, is comfortable in the tight pants.
VIEW THE PHOTOS: Hollywood Dads & Their Adorable Little Ones!
"[I am] on stage, playing that character. Let's be very clear here. I played Peter Allen for a year so I did 400 performances," Hugh laughed. "I'm probably — as far as my kids are concerned — a little too comfortable in them. I think my son finds that part very embarrassing. He's like, 'Dad. Really? What is this? I don't get it.'"
Hugh's new show has – according to Broadway League – already netted more than $1.2 million in eight preview performances and he's a hit at the box office too with "Real Steel," and the actor told Access a sequel is in the works.
"I think they already have a first draft for the script," Hugh said. "They have an idea for a sequel, which I think is brilliant and if anyone's seen the movie, it's set up in that way. So fingers crossed, we'll get the robots back out again."
VIEW THE PHOTOS: Stars From Down Under
Copyright 2011 by NBC Universal, Inc. All rights reserved.
This material may not be published, broadcast, rewritten or redistributed.
Related Content from AccessHollywood.com:
VIEW THE PHOTOS: Big Screen Gentlemen: Hollywood's Leading Men
PLAY IT NOW: Access Hollywood Live: Hugh Jackman - 'We've Got The Bieber Fever In The Jackman Family'
PLAY IT NOW: Access Hollywood Live: Hugh Jackman's Oscar Advice For Eddie Murphy
More from Access: [ Hugh Jackman Broadway 'Real Steel' ]
Copyright NBCAH - Access Hollywood