José Palma fled from El Salvador to Lynn, Massachusetts, as a last hope. After his family was displaced from their farm by a bloody civil war, he crossed the border at age 21 and did any work he could get — as a dishwasher, a deliveryman, a factory worker — to try and rebuild his life.
In 2001, he received temporary protected status, giving him the right to stay and work in the country legally. He earned his associate's degree and found a job as a paralegal. But under the Trump administration, those rights are in jeopardy.
Now, he is one of many TPS holders lobbying the Department of Homeland Security to renew his legal status — or push Congress to come up with a long-term solution for people like him.
"The end of TPS would destroy the life we've been building up for the past 19 years and give us an uncertain future," he said. "Fighting to maintain our legal status is fighting for the future of our families, for the future of our children."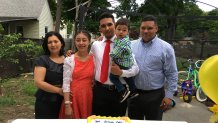 TPS, a temporary humanitarian designation, protects people from countries in the midst of natural disasters or civil war until they are able to return home. Honduras received TPS status in 1999, after Hurricane Mitch, while El Salvador received it in 2001 following a series of deadly earthquakes.
In total, experts say there are roughly 265,000 immigrants from these two Central American countries living in the U.S. with TPS protection, forming about 80 percent of all TPS holders.
U.S. & World
The day's top national and international news.
Other countries that currently benefit from the program include Haiti and Nicaragua. Three West African nations — Guinea, Liberia and Sierra Leone — were protected by TPS until their status was terminated in May.
As the TPS designations for Honduras and El Salvador come up for renewal early next year, Sharon Scheidhauer, a spokesperson for U.S. Immigration and Custom Services, said in a statement that DHS "will review conditions in these countries and determine" what decision is warranted.
But former Homeland Security Secretary John Kelly has already made several indications that the future of the program is uncertain under the Trump administration, particularly when it comes to TPS designation for Haiti.
Before becoming the White House chief of staff, Kelly announced that Haiti's designation would be extended for only six months, rather than the more common 18-month extension.
He later told the Miami Herald that immigrants protected by the program "need to start thinking about returning."
His comments came as the Trump administration has been trying to deliver on a campaign promise of stricter immigration enforcement. Orders of removal and voluntary departures are up 30 percent. In addition, Trump has proposed limiting legal immigration, based on a new system that would cut the number of visas issued by half and set new requirements.
For Sonia Paz, returning from Los Angeles to Honduras would mean giving up the ties she's developed to the United States since arriving in 1985, and saying goodbye to her three adult children and seven grandchildren, all of whom are U.S. citizens.
"My kids don't have any family except for me, and I don't have anyone except them," she said. "To have to disappear from their lives, that would be a disaster."
And it would also mean facing the threat of violence in a country that's been ravaged by gangs. Two of her brothers have been shot and killed by gang members since she came to the U.S.
Like her, many "tepesianos" — as they're known in Spanish — arrived in the United States during the 1990s seeking refuge from political upheaval and the aftermath of civil war.
"It's still so violent there. When people go back from the U.S., the first thing they [the gangs] do is threaten those families for money," she said. "My family could get kidnapped, or I could get shot."
Eric Olson, the deputy director of the Latin American program at the Wilson Center in D.C., said that conditions in the region are so unstable that deporting current TPS recipients would be like "pouring gasoline in a fire."
"You're putting people in a situation where things could only get worse," he said. "These are countries that face tremendous challenges in terms of crime, in terms of violence, in terms of a lack of economic opportunity."
At a Miami summit in June, the presidents of Honduras and El Salvador urged Vice President Mike Pence to push for a TPS extension for their respective countries, arguing that tepesianos are tax-paying, law-abiding immigrants who have integrated into U.S. society.
Trump himself has brought up the gang responsible for the region's rampant violence, saying at a speech in July that MS-13 — a criminal gang formed in Los Angeles with ties to El Salvador — has "transformed peaceful parks and beautiful quiet neighborhoods into bloodstained killing fields."
And while Attorney General Jeff Sessions visited the region in July in an effort to coordinate enforcement with governments there, the administraton may end TPS status despite the violence.
Rep. Luis Gutiérrez, D-Ill., said that he fears for current TPS holders after a meeting between Kelly and the Congressional Hispanic Caucus. Kelly, at the time still secretary of Homeland Security, said he was not sure he would extend the program, according to a July 12 statement from Gutierrez.
"I think we have to prepare for the worst and get ready to fight mass deportation," the representative said.
And that's exactly what people like Evelyn Hernández, a TPS holder living in Los Angeles, are aiming to do.
As an organizer with the Central American Resource Center in L.A., Hernández is working with a multi-ethnic coalition of immigrant groups to raise awareness about the role and contributions of TPS holders, she said.
"We will meet with whoever we need until we find someone who wants to listen to us, who wants to speak for us," she said.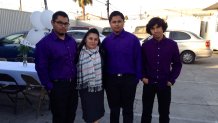 The groups are targeting members of Congress to express support for TPS renewal or to take legislative action to reform the program independently of the Trump administration, ideally granting permanent residency.
They're also working at the local level. The town boards of Cambridge, and Somerville, Massachusetts, have both passed resolutions urging DHS to extend TPS protection.
Cecilia Menjívar, a sociology professor at Kansas University, said that one of the main arguments for preserving TPS is the economic and social impact that immigrants have, particularly in areas with large Central American populations.
A May 2017 survey by Menjívar of 2,000 Salvadorans and Hondurans protected under TPS found that 80.3 percent pays income taxes, with nearly 30 percent volunteering in civic organizations, committees, or community groups.
A report from the Immigrant Legal Resource Center in San Francisco said that ending TPS for Honduras and El Salvador would result in a $6.5 billion reduction to social security and Medicare contributions over the next decade, in addition to a $42 billion reduction in GDP.
In addition, Menjívar said, the termination of TPS status would force these immigrants into the shadows, making them lose their health care and ability to drive and forcing them to search for under-the-table work.
Doris Meissner, a senior fellow at the Migration Policy Institute in D.C., said that while the U.S.'s foreign policy interests in Central America may complicate the decision, Kelly and Trump have made their views clear.
"The prevailing view with the administration is that the enforcement of these immigration laws had been weak and insufficient," she said. "The statute does not envision anything like the kinds of duration that had unfolded in the cases of these long-held TPS."
Congress, meanwhile, will likely be debating the immigration sections in an appropriations bill before it could take legislative action to renew or reform the TPS program, Meissner said.
Still, Hernández said that's not deterring her or other members of the campaign.
"I will fight however I can for staying here," she said. I'm not just going to be home crying and depressed. I have to fight to find a way to keep my documents."