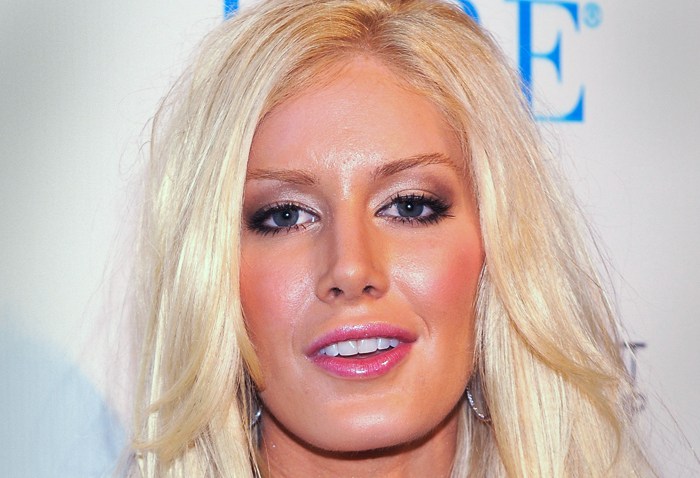 Heidi Montag is a celebrity who's perhaps better known for the work she's had done than any work she's actually done. Earlier this week, the 23-year-old star of MTV's "The Hills" went on Ryan Seacrest's radio show to talk about her body of work: a nose job, cheekbone and chin jobs, an eyebrow lift, breast augmentation, back scooping — wait. What?
"I had my back scooped," Montag said on "On Air with Ryan Seacrest" on Monday. When asked what, exactly, that means, she said, "I actually didn't know. I might be the first one to try it. It carves out your back a little bit."
And the Internet was all, Back scooping? Is that a real thing?! LOL. Commenters on blogs and celebrity gossip sites pondered together: What is this mysterious procedure?
U.S. & World
The day's top national and international news.
First of all, the procedure isn't really called that, said Dr. Anthony Youn, a plastic surgeon in Troy, Mich., who runs the blog Celebrity Cosmetic Surgery.
"'Back scooping' is probably a term that Heidi made up for the liposuction of the love-handle, back-of-hips area," says Youn, an msnbc.com contributor.
The procedure essentially does create a scoop-like, concave appearance to the patient's back, handy for backless summer dresses. But Montag is definitely not the first one to try this — it's a fairly common surgery, and it's becoming an increasingly popular weapon in the war on the muffin top.
"It's always been very popular, because that area ... has always been an area of frustration, principally for women," says Dr. Michael McGuire, the president of the American Society of Plastic Surgeons, who practices in Santa Monica, Calif. "It's kind of a generalized approach to thinning the waist and decreasing those unsightly folds related to the muffin top. It's a version of treating those areas, and the ultimate goal is to create more of a concavity, would probably be a more appropriate term for it."
The surgery generally lasts about an hour, and costs $2,000-$2,500 on average. It's also a relatively risk-free area to liposuction, as cosmetic procedures go, Youn says.
"For some reason, the back of the hips, that 'scooping' area, almost never looks lumpy or anything like that," Youn says. "I think the skin in general there, it lies down nicely, and the muscles there are real smooth. Typically, it heals real smoothly in just about everybody."
McGuire says patients who want liposuction targeted at the back are generally women in their 30s or 40s who are looking to fight what some might call "bread back." (That's "the loaf of back fat women have between a woman's bra and her giant underwear," explains a recent gentleman-friend of Liz Lemon's on "30 Rock.")
For Youn, it's often very thin patients who request the procedure. Because when it seems like there's no fat left to be lipo'd, there's always the love handles.
"It's actually my favorite area to liposuction, since we can get such impressive results there," Youn says. "It is also one of the only areas that can be effectively liposuctioned on a person who is otherwise very thin."
Copyright MSNBC - MSNBC