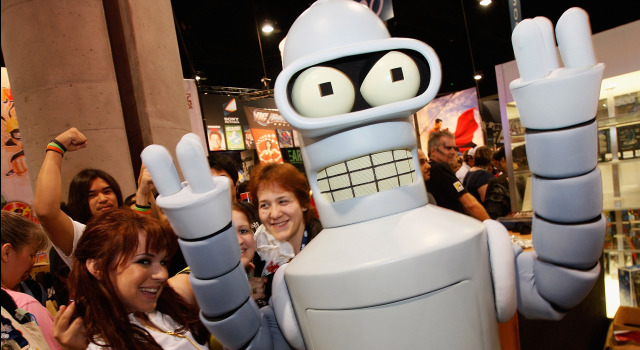 Perhaps our favorite moment so far of the long-awaited new season of "Futurama" came in the fourth episode when the preserved head of George Takei moderated a debate on the hot-button issue – at least in the 31st Century – of robosexual marriage.

After Bender's plea in favor of Proposition Infinity, which would allow human-robot weddings, "Star Trek" legend Takei became emotional.

"I haven't heard such an eloquent speech since Bill Shatner explained why he couldn't pay me back," he said.

The topical humor-driven satire proved beyond any doubt that reprobate robot Bender and the rest of the "Futurama" gang didn't take on any rust during the seven years between regular-season installments. Recruiting Takei, half of the first same-sex couple who applied for a marriage license in California, pre-Proposition 8, was a great touch. Plus, we're always a sucker for a good Shatner joke.

But the "Star Trek" reference also worked on another level: Like "Futurama," "Star Trek" was infamously canceled before its time. Unlike "Star Trek," the cult comedy, thanks to its animated form, has returned largely intact in its new life on Comedy Central.

The cartoon, set in 31st Century New York, will mark its 100th episode Thursday – capping an unlikely comeback season that was well worth the wait.

Highlights in recent weeks have included a clever "Da Vinci Code" parody, which can be forgiven for being a little late. A recent episode involving multiple characters exchanging bodies drew buzz because the writer, Ken Keeler, reportedly used the farcical device to prove a theorem on group theory that we'll never understand. We just thought the bit was funny.

In the most recent episode, "Futurama" creator Matt Groening – or at least his preserved head – gets the last laugh.

Groening, who is better known for giving us "The Simpsons," (which, unlike "Futurama," wasn't canceled by Fox after five seasons) appears at Comic-Con in the Year 3010. He shows the assembled geeks a preview of a new program – "Futurella," set in 4010 – that gets canceled during the opening credits.

"Wow – Fox has really streamlined the process," Groening says.

We're not expecting the revived "Futurama" to last as long as "The Simpsons," which is into its third decade. But with at least one more season of Fry, Bender and Co. on the way and the writing still strong, the future looks good for a few more laughs.

Hester is founding director of the award-winning, multi-media NYCity News Service at the City University of New York Graduate School of Journalism. He is the former City Editor of the New York Daily News, where he started as a reporter in 1992. Follow him on Twitter.
Copyright FREEL - NBC Local Media