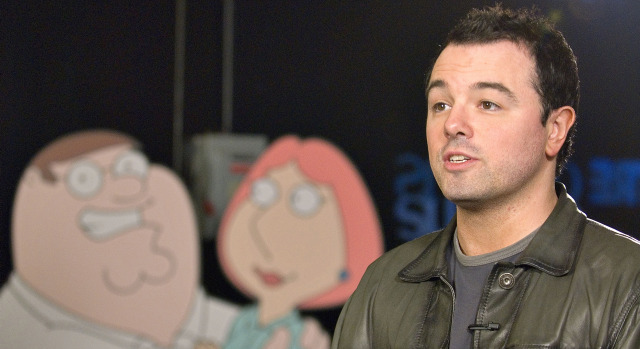 "Family Guy" creator Seth MacFarlane delights in using his cartoon characters to cross lines as he tackles race, religion, abortion and even giant, fighting chickens.

Now he's set to trek into new territory – terrain that may be more infomercial than irreverence.

Plans were announced this week for a Nov. 8 special with MacFarlane and his "Family Guy" co-star Alex Borstein sponsored by Microsoft to promote Windows 7. The new operating system reportedly will be touted by MacFarlane and Borstein during "Family Guy Presents: Seth and Alex's Almost Live Comedy Show."

"The format of the show lends itself to collaborating and creating content together," Microsoft's Gayle Troberman told Variety.

There's little doubt MacFarlane will hurl some jagged rocks at Windows. But not only is Microsoft in on the joke, the company's paying for it.

The folks at FOX are portraying the stunt as a return to the television's early days where stars – think Milton Berle and "Texaco Star Theater" – pitched products on single-sponsor shows.

But the move seems more like a reaction to modern economic realities – and marks another major step toward integrating ads into entertainment content.

We've all seen the Coke cups on "American Idol." Snapple product placement was a running gag on "30 Rock" a couple seasons back – earlier this year, Tina Fey found herself defending a McDonald's bit as just a joke, and not part of an endorsement deal.

Brand name are regularly interwoven these days into dramas such as "24" and "Gossip Girls."
At least MacFarlane and Fey can be counted on to mine shilling for laughs.

They're not chuckling much these days in Hollywood, where TV executives are dealing with an advertising downturn, segmented audiences and more viewers using DVRs to fast-forward through commercials.

NBC and ABC are experimenting with integrating storylines into commercials to keep viewers from skipping through.
There's nothing wrong entertaining commercials: MacFarlane himself stars in a humorous ad for Hulu, the online video service where you can catch his "Family Guy," "The Cleveland Show" and "American Dad," among other FOX and NBC shows.
U.S. & World
The day's top national and international news.
The Microsoft special might be intended, in part, as a rebuttal of sorts to the funny Apple ads pitting a fussbudget PC – as personified by "Daily Show" regular John Hodgman – against a more hip Mac, played by Justin Long.

But you can bet – or at least hope – we won't see an Apple-themed "Daily Show" special anytime soon.

MacFarlane's special, given his track record, probably will be worth watching. And with the show sandwiched between two episodes of "Family Guy," the most-watched Sunday program of the season, Microsoft and FOX likely will be pleased with the ratings and could be encouraged to roll out more sponsored specials.

But how the gimmick might play with viewers in the longer term is unclear. One thing is for certain: if the giant, fighting chicken shows up in a "Family Guy" episode that includes plugs for KFC, it's time to reach for the remote.

Hester is founding director of the award-winning, multi-media NYCity News Service at the City University of New York Graduate School of Journalism. He is the former City Editor of the New York Daily News, where he started as a reporter in 1992. Follow him on Twitter.
Copyright FREEL - NBC Local Media