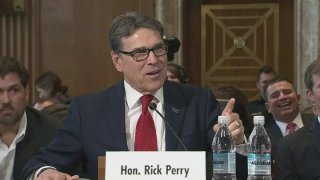 President Donald Trump is focused on fossil fuels to buoy the economy, but a report out this month found that solar energy companies employed more workers to generate electric power last year than coal, oil and natural gas combined.
Solar energy accounted for 43 percent of the workforce engaged in electric power generation, twice the number working in fossil fuel, or 374,000 people compared to 187,117, according to the report from the U.S. Department of Energy. Wind energy was third in the rankings.
The solar energy dominance is largely a result of construction related to its expansion, according to the report.
Though dwarfed by fossil fuels, solar energy grew tremendously in the last decade. Electric generation from solar energy increased by more than 5,000 percent between 2006 and 2016 compared to a 33 percent increase for natural gas and a 53 percent drop for coal.
But when Trump addressed Republican legislators at their retreat in Philadelphia on Jan. 26, he made no mention of green energy.
"We will unleash the full power of American energy, ending the job-killing restrictions on shale, oil, natural gas and clean, beautiful coal," he said to applause. "And we're going to put our coal miners back to work."
Republicans are similarly emphasizing "job-killing regulations" as the U.S. Senate considers Trump's choices to head the Environmental Protection Agency, the Department of Interior and the Energy Department — Oklahoma Attorney General Scott Pruitt for the EPA, Rep. Ryan Zinke of Montana for the Department of Interior and former Texas Gov. Rick Perry for the Energy Department.
U.S. & World
The day's top national and international news.
Zinke's and Perry's nominations were sent to the full Senate on Tuesday, Pruitt's on Thursday. Democrats boycotted the vote on Pruitt, who has sued the EPA over its authority to regulate mercury pollution, carbon emissions from power plants and other actions.
At Pruitt's confirmation hearing last month, Republican Sen. John Barrasso blamed EPA overreach for crushing energy jobs in Wyoming, where last week some lawmakers took the unheard of position of demanding that utilities be fined if they provide energy produced from wind or solar energy. And West Virginia Sen. Shelley Moore Capito said the EPA gave little attention, as required by law, to the economic effect of its policies in her state — where coal mining jobs dropped 23 percent from 2015 to 2017 and six of its counties are in a severe depression.
Environmental activists counter that not only do regulations affect only a small number of jobs but that the GOP calculus ignores the boom in green jobs and the costs of a degraded environment.
"Number one compared to many other things, the regulations cause very few loss of jobs," said Jim Marston, vice president for clean energy at the Environmental Defense Fund. "Number two, for every job spent on regulations, you're creating jobs. And three, there are a whole host of benefits, whether they're cutting down on waste or reducing air pollution, that ought to be part of the calculus."
Marston pointed to California as an example. In December, when California Gov. Jerry Brown defended the science of climate change at a meeting of the American Geophysical Union, he put California's economic growth up against Texas'. Far from hindering California's growth, climate rules contributed to the state's economic rise, Brown said.
"California is growing a hell of a lot faster than Texas, and we have more sun than you have oil," he said.
California added 483,000 jobs in 2015, a growth rate of 3 percent, which was twice as fast as Texas' 1.5 percent rate, PolitiFact found. California's employment gains slowed to 2 percent last year through November, but still outpaced Texas' 1.6 percent.
And by the measure of GDP, California's grew faster than Texas' in the first two quarters of the year — 2 percent and 2.2 percent for California compared to 1.3 percent and a negative 0.8 percent for Texas, according to the U.S. Bureau of Economic Analysis.
Fossil fuels dominate American energy consumption, with petroleum accounting for 36 percent in 2015, natural gas for 29 percent, coal for 16 percent, renewable energy for 10 percent and nuclear electric power for 9 percent, according to the U.S. Energy Information Administration. And petroleum and other liquid fuels are expected to continue to make up the largest share of U.S. energy consumption through 2040, though the share will decline slightly, the administration projects.
The trade association representing the oil and natural gas industry, the American Petroleum Institute, argues its industry can create more jobs and expand the economy and it wants to Trump to ease restrictions on drilling in the Arctic and Atlantic oceans. In December, former President Barack Obama banned new offshore oil and gas drilling in millions of federally owned acres along the Atlantic and Alaska coasts.
Restrictions have has left 94 percent of off-shore acres off limits to energy exploration, up from 87 percent a few months ago, the American Petroleum Institute says.
"The U.S. energy renaissance has demonstrated that it's not only possible to balance economic growth and energy security with environmental stewardship, it should be the focus of federal regulatory policy," said Marty Durbin, the organization's executive vice president, in a statement.
Government mandates are threatening to undermine U.S. energy production and raise consumer costs, Durbin said. He complained of lower ozone emissions regulations issued by the EPA in 2015 that he argued were too stringent but that environmentalists said were too lax. He urged significant reform of the country's renewable fuel standard, which requires that gasoline sold in the United States contain a minimum volume of renewable fuels and which is supported by Republicans such as Iowa's Sen. Joni Ernst.
"Federal regulatory policy can either strengthen or weaken the U.S. energy resurgence, with impacts that extend far beyond our sector," Durbin said.
But if Texas leads the country in the production of oil, it also is setting records in wind. Its thriving market in wind power was spurred in part by President George W. Bush and Perry, who together deregulated electricity in the state while they were governors and set targets for renewable energy. A federal production tax credit has been key to its success, its proponents say.
Greg Wortham, the former mayor of Sweetwater, Texas, whom the Sierra Club dubbed the "mayor of wind," points out that most of states with large wind potential are Republican. He favors a mix of energy sources, and compromises in the energy battles.
"The market is saying we want solar, we want wind, we want natural gas," said Wortham, now the executive director of the Texas Wind Energy Clearinghouse.
A report from the Environmental Integrity Project released this month found that only two-tenths of one percent of layoffs are caused by government regulations of any kind, including environmental ones.
Other points made in the study, based on data from the U.S. Bureau of Labor Statistics and the U.S. Office of Management and Budget:
For every job lost due to regulations, 15 are eliminated because of corporate cost cutting and 30 are due to ownership or other organizational changes.
For each dollar spent, solar and wind energy projects create twice as many jobs as coal or natural gas, economists at the University of Massachusetts, Amherst, calculated in 2009. That includes more jobs in manufacturing and construction, and more jobs at an average hourly wage of $24.50.
Over the last decade, the benefits of environmental regulations have exceeded the costs they impose by a rate of more than ten to one, according to the federal Office of Management and Budget.
This was the second year that the Department of Energy published a jobs report, called the U.S. Energy and Employment Report, that analyzed how changes in the country's energy profile are affecting national employment.
"Whether producing natural gas or solar power at increasingly lower prices or reducing our consumption of energy through smart grids and fuel efficient vehicles, energy innovation is proving itself as the important driver of economic growth in America, producing 14 percent of the new jobs in 2016," David Forster, the Department of Energy's senior advisor on industrial and economic policy, said in a statement.
Solar employment is continuing to grow, with an expected rise of 7 percent this year, the report noted.
Trump has so far shown little enthusiasm for solar energy, and has criticized its cost. Some investors though note his alliance with Elon Musk, the founder of Tesla, the all-electric car company, which late last year merged with the solar panel manufacturer SolarCity. Musk criticized Trump before the election, but since then has joined the president's forum of business advisors.
And the president has been persistently opposed to wind turbines, at least when they are built too close to two golf courses he owns in Scotland. After an an offshore 11-turbine wind farm was proposed near his course in Aberdeen, he tweeted that English taxpayers should "stop subsidizing the destruction of Scotland by paying massive subsidies for ugly wind turbines," Politico wrote in November.
As for climate change, Trump famously wrote that it was a hoax.
"The concept of global warming was created by and for the Chinese in order to make U.S. manufacturing non-competitive," he tweeted in 2012.
Trump said later that he was joking, but this month China announced that it would spend more than $360 billion on renewal energy by 2020 as it moves away from coal-fired plants that leaves cities like Beijing under a heavy, unhealthy layer of soot. The money will create 13 million jobs in China, which has already helped to push green energy investments across the globe to record highs and the costs in wind and solar industries to new lows. Industry observers say the United States is in danger of losing its chance to lead the industry.
The International Renewal Energy Agency released its own annual job review last year and found the renewable workforce had risen 5 percent, accounting for 8.1 million jobs in 2015. Solar photovoltaic was the largest employer with 2.8 million jobs across the world, an 11 percent increase over the year before, and jobs continued to shift toward Asia, where the share of the continent in global employment rose to 60 percent. Growth was likely to slow but doubling the share of renewables in the global energy mix would mean more than 24 million jobs worldwide by 2030, the agency predicted.
Meanwhile, Trump's nominees acknowledge that the climate is changing but stop short of agreeing with the opinion of most climate change scientists actively publishing studies, 97 percent of whom agree that human activities are the primary driver of climate-warming trends, according to NASA.
Perry said during his confirmation hearing that efforts to address climate change should not cost American jobs or economic growth.
Zinke said he did not believe climate change was a hoax, but argued that there was debate over how much human activity was contributing.
And Pruitt said he continued to doubt the effect human activity is having on climate change.
"Science tells us the climate is changing and human activity in some matter impacts that change," Pruitt said, but added, "The ability to measure and pursue the degree and the extent of that impact and what to do about it are subject to continuing debate and dialogue."
An EPA analysis of the 1990 amendments to the Clean Air Act concluded that the benefits significantly outweigh the cost -- reaching about $2 trillion by 2020 at cost of $65 billion. Most of the benefits were a result of reducing the risk of early deaths from being exposed to fine particle pollution.