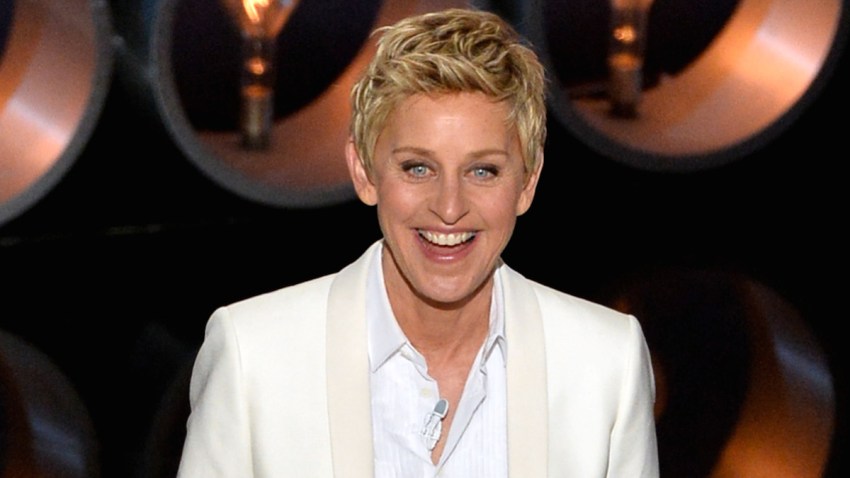 Ellen DeGeneres, during her Oscars opening monologue, reminded the world about Jennifer Lawrence's infamous fall last year on her way to accepting her Best Actress award – and revealed the "American Hustle" star tripped on the red carpet Sunday. "If you win tonight, I think we should bring you the Oscar," DeGeneres told Lawrence.
DeGeneres, back hosting the Academy Awards for the first time in seven years, didn't stumble – physically or otherwise – during the 3 1/2-hour ABC broadcast. She didn't give herself much of a chance to – DeGeneres didn't kickoff the Oscars with a big production number. She didn't even launch into one of her trademark dance routines.
But the comedian did a stand-up job with pretension-puncturing one-liners and audience-roving bits aimed at keeping the stars as down to earth as her image. "I think you should think of yourselves as winners – not all of you, but the people who have won before," DeGeneres quipped.
U.S. & World
The day's top national and international news.
Her solid, play-it-safe performance came a year after "Family Guy" creator Seth MacFarlane breathed irreverent new life into the Oscars, but offended some with, among other things, a tongue-in-cheek musical salute to female nudity on film.

DeGeneres generally clothed her jokes in good taste, even if she made Jonah Hill's brush with immodesty in "The Wolf of Wall Street" a running gag. "No, no, I don't want to see it," she told him during one of her frequent forays into the crowd at the Dolby Theatre.
A crack about audience member Liza Minnelli being portrayed by an impersonator ("Good job, sir!") came off as uncharacteristically uncharitable. But the closest DeGeneres got to edgy was some early awards handicapping: "Possibility No. 1: '12 Years a Slave' wins Best Picture. Possibility No. 2: You're all racists."
DeGeneres displayed more confidence Sunday than in her initial 2007 hosting stint, perhaps owing to her growing ease as a versatile entertainer whose success rests in coming off more as a viewer surrogate than one of the Hollywood gang.
She proved at her best putting her fan-like persona to work between awards, snapping (and tweeting) selfies with big-name actors and giving Bradley Cooper scratch-off lottery tickets as a "consolation prize" after he lost Best Supporting Actor honors to Jared Leto. About midway through the show, she asked if anybody was hungry: "I have this crazy idea that I'll order some pizza."

She did – and handed out slices to the likes of Harrison Ford and Martin Scorsese, in a charming move. More significantly, she served up comedic comfort food to the billion or so folks watching from home.
DeGeneres' second Academy Awards stint won't make anyone forget Tina Fey and Amy Poehler's strong Golden Globes return performance seven weeks ago. And she didn't challenge time-gilded memories of Oscar glory day hosts like Bob Hope, Johnny Carson and Billy Crystal.
When faced with high expectations, DeGeneres didn't jump. She didn't even dance. But she did fine just by keeping her feet on the ground, being herself and reinforcing her image as one of us.
Jere Hester is founding director of the award-winning, multi-media NYCity News Service at the City University of New York Graduate School of Journalism. He is also the author of "Raising a Beatle Baby: How John, Paul, George and Ringo Helped us Come Together as a Family." Follow him on Twitter.
Copyright FREEL - NBC Local Media