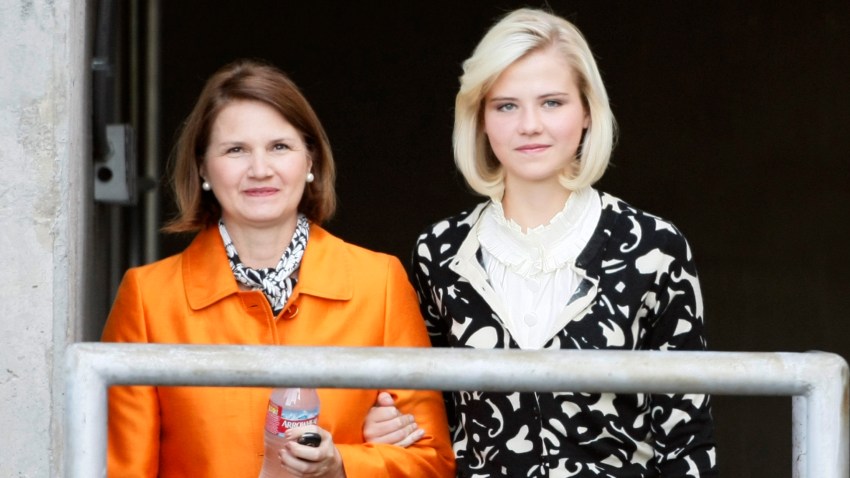 Elizabeth Smart testified in federal court today in Salt Lake City against her troubled abuser Brian David Mitchell, who she alleges raped her daily during nine months of captivity in 2002.
Smart, now 21, delivered a "courageous" testimony against Mitchell, describing how he manipulated religion as an excuse to rape her and threatened to kill her if she tried to escape. The shocking revelations came during a competency hearing for Mitchell who has twice been found to be incompetent for trial in state court.
Smart testified that when she resisted, Mitchell would tell her, "The Lord says you have to do this, you have to experience the lowest form of humanity to experience the highest," the Los Angeles Times reported.
U.S. & World
The day's top national and international news.
Mitchell, a self-proclaimed religious prophet, refused to stop singing Mormon hymns during the trial and was removed from court. In testimony, Smart said Mitchell could turn off his religious rants if he could get what he wanted. She also described him as "evil, wicked, manipulative, sneaky, slimy, selfish, greedy," according to the Los Angeles Times.
Mitchell and his wife Wanda Barzee allegedly abducted Smart when she was 14 from her bedroom and chained her leg to a tree. The couple held Smart prisoner at a campsite in a remote canyon in the mountains behind her parents home, prosecutors alleged.
According to the Associated Press, Smart said Mitchell fed her alcohol and drugs to reduce her resistence to his unwanted advances.
"He said that he would kill anybody that would come into the camp, or kill me if I ever tried to escape or yell out," Smart testified.
Deputy federal public defender Bob Stelle told the Los Angeles Times that he was impressed by Smart's testimony. "She was courageous and very generous," he said. "You can't hear that kind of thing without being appalled."
Mitchell and Barzee were arrested in 2003 after being spotted with Smart on a Salt Lake City street.