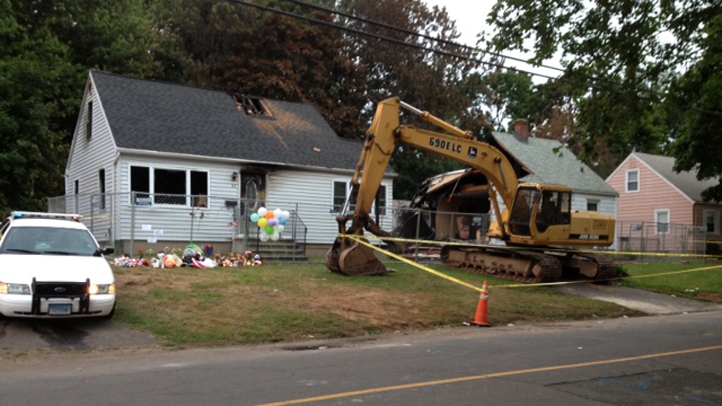 Two houses that were struck by a plane in East Haven, Conn., on Friday will be demolished this week.
Officials said water and fuel must be pumped out of the homes on Charter Oak Avenue and the state Department of Energy and Environmental Protection must clear the scene before the demolition begins.
Bill Henningsgaard was piloting the small propeller-driven plane on a trip with his son, Maxwell, to tour East Coast colleges when it crashed on Friday morning, police said.
U.S. & World
The day's top national and international news.
Henningsgaard and his son were killed in the crash, along with two sisters in one of the houses.
They have been identified as Sade Brantley, 13, and Madisyn Mitchell, 1.
Candles, flowers and stuffed animals now mark the spot where they were killed.
Residents of the neighborhood say the two homes are now a constant reminder of the horrific plane crash and the tragic loss of four lives.

"These were people. It's a tragedy, these were neighbors, children," Dione Fiedler, of East Haven, said.

Fiedler is one of many people who rushed to the fiery scene.

"Me and a bunch of my neighbors came down here and there was smoke and everyone was just hugging each other crying," she said.

Fiedler said she hopes demolishing the buildings will at least help the community begin to heal and she is choosing to remember the very last time she saw little Sade as happy and just being a kid.

"Sitting on the front porch eating cookies," Fielder said.
NTSB Air Safety Investigator Patrick Murray said over the weekend that the pilot was in contact with tower control in the moments leading up to the crash before losing transmission a few seconds later.
Henningsgaard did not declare emergency before the crash, NTSB officials said on Saturday afternoon.
On Saturday it was revealed that the accident was not the first crash for the pilot, a former Microsoft executive.
In 2009, Henningsgaard, a highly regarded philanthropist, was flying from Astoria, Ore., with his 84-year-old mother to watch his daughter in a high school play when he crashed into the river as he tried to glide back to the airport. He and his mother, a former Astoria mayor, climbed out on a wing and were rescued.
"I forced myself to confront that fact that the situation any pilot fears — a mid-air emergency, was happening right then, with my mother in the plane," he wrote in a blog post days later.
Authorities said previously that as many as six people could have died in the crash on Friday, but East Haven Deputy Fire Chief Anthony Moscato said the four people recovered late Friday are believed to be the only victims.
Murray said the remains of the plane have been removed and transported to a secure location and that a preliminary report would be available in 10 business days.
Copyright AP - Associated Press