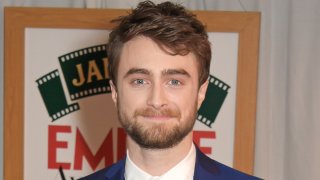 Daniel Radcliffe's accent was on point as he showed off his rapping skills with an Eminem number during karaoke night at Cameron's Pub in Half Moon Bay, Calif. (If you closed your eyes, you'd never think this was a British dude.)
Up on the tiny stage, Daniel and girlfriend Erin Darke get into the zone real quick once the beat drops. Darke immediately gets into some impressive hip thrusts as boyfriend Daniel cues up.
Although we've heard "Slim Shady" 9 bazillion times, something about watching Harry Potter rap about celebrities makes it seem like a brand-new song.
VIDEO: Daniel Radcliffe goes undercover as a receptionist
It's 4 minutes and 40 seconds of rapping genius.
Warning: Video contains offensive language. Viewer discretion advised. [[317613221, C]]
Mr. Radcliffe, your diction is fantastic and we can actually hear the words. What also is fantastic is your girlfriend's commitment to being the best backup dancer ever.
U.S. & World
The day's top national and international news.
If we had a Most Committed Karaoke Couple sticker to award, you guys would be the recipients.
PHOTOS: See more celebs going wild on Lip Sync Battle
[NATL] Top Entertainment Photos: Best of the American Music Awards, and More
Copyright E! Online