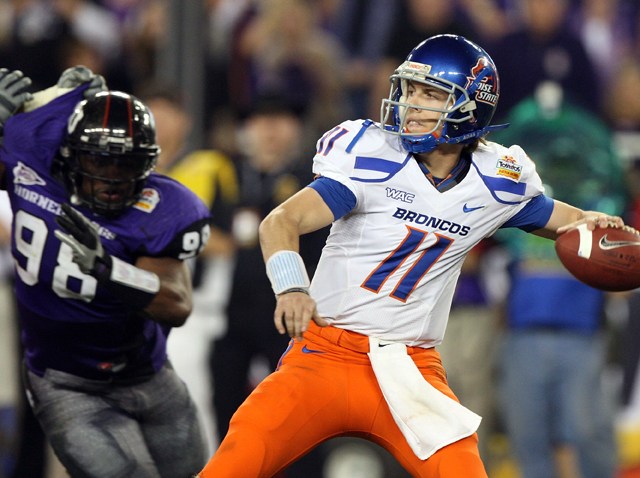 Most of college football's powerhouses opened their season with easy tuneups over the weekend, but the first clash of titans comes tonight, when Boise State takes on Virginia Tech at a neutral field.
Boise State, which has battled for post season respect as it transformed from an obscure prairie school into a contender, finished 14-0 last year and is currently ranked No. 3 in the nation. Virginia Tech is ranked tenth. So while perennial powers like top-ranked Alabama, Ohio State, Florida and Texas got their seasons underway with easy blowouts, tonight's game could upend one team's title hopes long before the autumn leaves hit the ground.
"This could make or break national championship hopes for either one of us,'' Virginia Tech running back Ryan Williams told The Roanoke Times.
U.S. & World
The day's top national and international news.
Kickoff is at 8 p.m. EST, and the game takes place on FedEx Field, home of the NFL's Washington Redskins. It will be televised nationally on ESPN.
Boise State, known for playing home games on its distinctive blue field, has only been a Division 1 team for 14 years. But it has made up for a lack of tradition by winning the Western Athletic Conference seven of the last eight years and a 26-1 record over the last two years. Coach Chis Peterson is 49-4 since taking over the Broncos' program in 2006. Some pundits say tonight's game is his biggest test yet.
"The big day has finally arrived for No. 3 Boise State," wrote ESPN's Andrea Adelson. "We will know once and for all whether the Broncos will continue to be in the national title conversation after their huge game against No. 10 Virginia Tech tonight."
Peterson refuses to say his team's season is riding on its first game.
"In terms of a national title, so many things have to happen, even when you're in a BCS conference, let alone where we're sitting now," he said. "So we don't even go there. We just worry about the things we control. My mindset never wavers from that."
His counterpart on the Hokies sideline isn't so circumspect about his feelings.
"I'm nervous about this game," said Virginia Tech Coach Frank Beamer.
Selected Reading: The Roanoke Times, ESPN, CBS Sportsline.