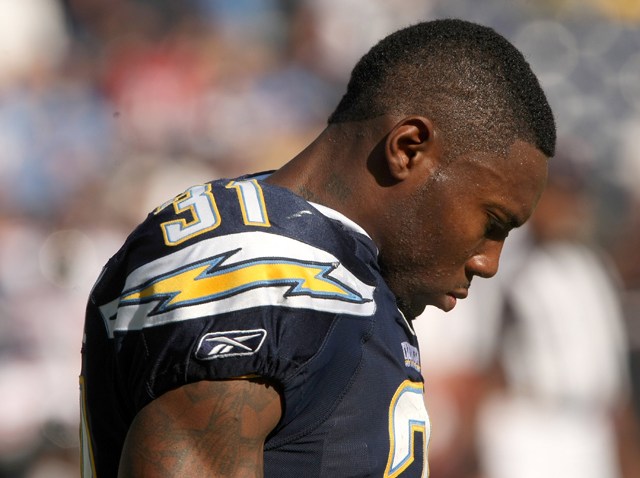 Chargers corner Adrian Cromartie apologized Monday after police said he is a suspect in an investigation into a post-game bar fight.
Cromartie and several teammates were at Bar West in San Diego, celebrating the Chargers' 32-3 win over Denver, when a fight broke out. A customer was hit in the head with a champagne bottle a little after 1 a.m., according to investigators.
On Monday, police said star cornerback Antonio Cromartie was listed as a suspect in the case. No arrests were made after the incident, but the investigation has not been completed, authorities said. Police have not released the identities of any other players who were at Bar West on Sunday, although witnesses told celebrity news site TMZ that defensive players Shaun Phillips and Stephen Cooper.
U.S. & World
The day's top national and international news.
According to a witness, the fight broke out after the Chargers players and a group a people at the bar got into a contest of one-upmanship, seeing who could order more high-end champagne -- each bottle was delivered with a small sparkler-show.
"It was like, OK, let's see who can make the most fireworks," said Gary Ratavossi, part of the group.
The contest escalated slowly, with people spraying others with champagne. But it turned violent in a hurry, Ratavossi said. He saw a player grab a champagne bottle and hit his friend in the back of the head.
"The bottle then cracked, and there was glass everywhere, pandemonium. His head was bleeding profusely. there was just blood everywhere: his shirt, the floor."
Cromartie issued an apology via Twitter - but didn't say exactly for what he was apologizing.
"I want to apologize to charger nation and my fans," wrote Cromartie, whose Twitter user name is crimetime31. "There's sum stuff out abt me that's not true. It will come out. God Bless."
In an interview with celebrity news site TMZ.com, the victim said he blacked out after being hit in the head and has no recollection of what happened. He asked TMZ that he not be identified.
The victim was taken to a local hospital, where he received three staples and underwent a CAT scan, TMZ reported.
In August, Cromartie was fined $2,500 by the Chargers after a tweet about the food the Chargers were serving during training camp. The offending tweet apparently equated the food quality with the Chargers' failure to reach the Super Bowl in recent seasons.
Celebrity news Web site TMZ reported Monday that a bystander was cut on the head in the PB incident.
Cromartie is a former Pro Bowler who the Chargers drafted in 2006 out of Florida State. This season, Cromartie has made three interceptions -- including one on Sunday against Denver -- and 20 tackles.

A Chargers spokesman said the team had no comment yet, but that the team is aware of the story and is looking into it.