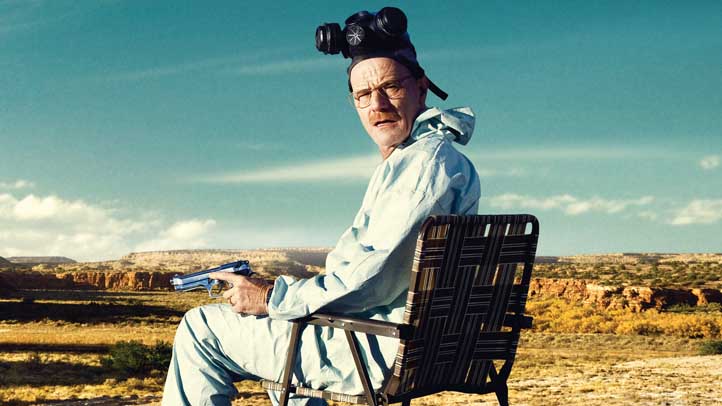 Memo to "Breaking Bad" fans: Watch out for spoilers.
With word surfacing that a man has been arrested for stealing a "Breaking Bad" script from star Bryan Cranston's car, there's still a distinct chance plot details could leak out about the AMC drama series' final season.
That's because the screenplay has yet to be recovered.
U.S. & World
The day's top national and international news.
E! News confirms that police in Bernalillo County, N.M., took into custody on Friday 29-year-old Xavier McAfee on suspicion of one felony count of burglary. He's accused of breaking into the actor's Audi last December and swiping a brown shoulder bag containing personal property, an iPad and a "Breaking Bad" TV script.
Breaking Bad's Toyota Tercel is for sale
"We received info from a confidential informant that he knew of an individual having a script from 'Breaking Bad' and wanted to know if anyone wanted to buy an iPad," Bernalillo County Sheriff's Department spokesman Aaron Williamson told E! News.
According to authorities, on Dec. 20, Cranston drove up to lookout point on Sandia Crest outside of Albuquerque not far from where "Breaking Bad" shoots.
"He had driven up there and parked his car and walked out to the lookout to take in the views of the city. He was only gone for 10 minutes and realized his car, an Audi, has been broken into," said Williamson.
The spokesman noted that the crime appears to be a random act and that the actor wasn't targeted for his role on the show. They ended up arresting McAfee after the informant revealed a man had been bragging about pilfering the items, including the script, at a local bar.
As for what "Breaking Bad" tidbits the theft may have revealed, Williams couldn't say.
"We don't know if it was one scene or the whole season, but I know they are trying to keep tight wraps on this final season and how it is going to end," he said.
Here's hoping it doesn't end up on the Internet. "Breaking Bad's" final season is set to premiere this summer.
--Reporting by Senta Scarborough
Copyright E! Online