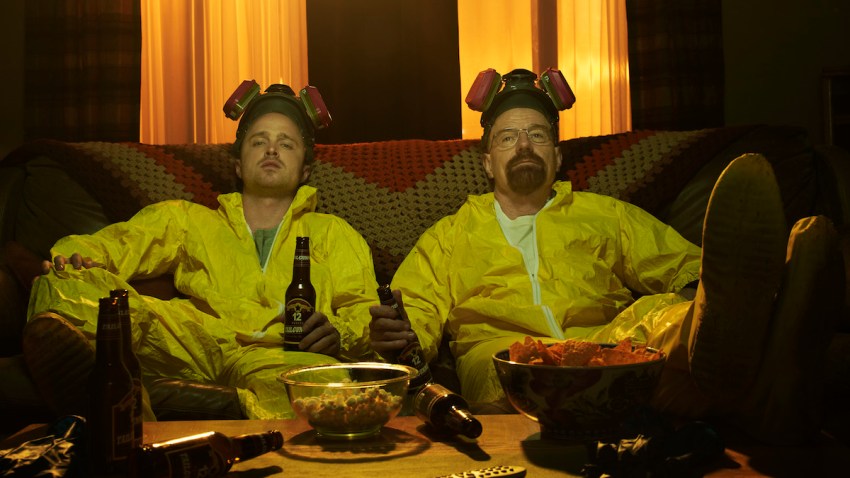 Crystal meth has made its way to the Smithsonian.
Aaron Paul joined the cast of "Breaking Bad" to celebrate the fact that two of the Emmy award-winning AMC show's meth suits have been donated to The National Museum of American History.
"The Smithsonian now has two of our meth suits in their hallways and I could not be more excited about that fact. I mean they have the hope diamond, Lincoln's top hat and now a bunch of really cool items from the greatest TV show of all time," Paul wrote on Instagram.
U.S. & World
The day's top national and international news.
"Yes, I may be a little biased but I am also very proud," he added, before giving props to the creator of the show, Vince Gilligan.
"That man standing up there at the podium is the reason this show exists. Vince fu*%ing Gilligan. He is the reason I have a career and I will be indebted to this man until my dying breath. This show was a success because of you. Simple as that. We needed our audience to believe in us and that you did my friends. 'Breaking Bad' is now in the Guinness book of world records as the highest critically acclaimed TV show in history. That is absolutely INSANE. To all of you, Thank you."
Gilligan went up to speak at the event, and joked, "If you had told me there'd be crystal meth in the same museum as The Star-Spangled Banner, Thomas Edison's light bulb, Abraham Lincoln's pocket watch and Dorothy's ruby slippers, I'd have told you you were using too much of Walter White's product."
Along with the pair of hazmat suits and gas masks worn by Paul and Bryan Cranston, the collection will include a soda cup from Los Pollos Hermanos, the DEA badge belonging to Dean Norris' character Hank Schrader, a purple corkscrew from the house he shared with wife Marie (Betsy Brandt), Heisenberg's black hat and, of course, two baggies of Walter White's signature baby blue (and fake) meth, among other items.
The exhibit is slated to open in 2018.
PHOTOS: Behind the scenes of "Breaking Bad"
Copyright E! Online