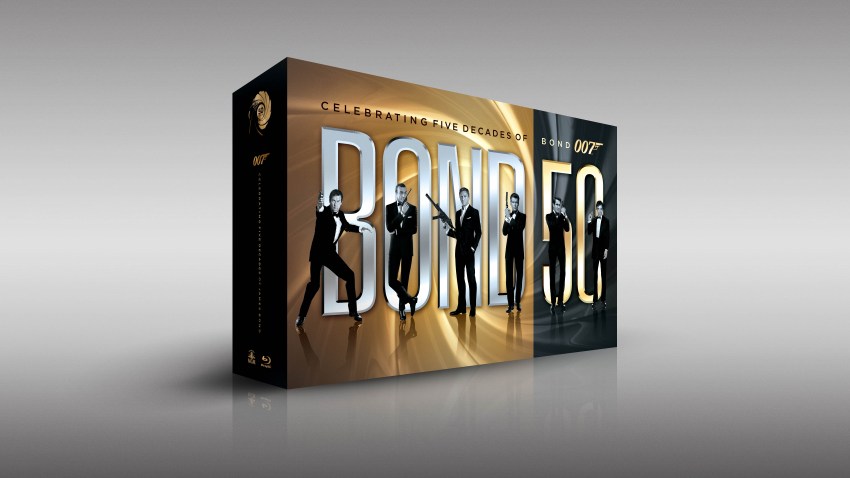 Operators are standing by!
In honor of the 50th anniversary of James Bond's film career, MGM and 20th Century Fox have put together the ultimate 007 Blu-ray boxed set that features all 22 films and includes an more than five days worth of extras. This thing is so comprehensive that they've even included George Lazenby--but it's gonna be short a film the minute "Skyfall" opens.
U.S. & World
The day's top national and international news.
Here's the press release hailing the arrival of this blessed gift:
In celebration of James Bond's monumental golden anniversary, Metro-Goldwyn-Mayer Studios and Twentieth Century Fox Home Entertainment today unveiled BOND 50, a collectible box-set featuring all 22 James Bond films on Blu-ray Disc for the first time in one complete offering. The longest running film franchise of all time, the Bond 50 collection marks the debut of nine James Bond films previously unavailable in high definition Blu-ray. Fans around the world can pre-order now with participating online retailers.

Acclaimed Bond directors John Glen (five Bond films including For Your Eyes Only, Octopussy, A View to a Kill, The Living Daylights & Licence To Kill), Martin Campbell (GoldenEye, Casino Royale) and Michael Apted (The World Is Not Enough) with special guests Olga Kurylenko (Quantum of Solace) and Caterina Murino (Casino Royale) made the Blu-ray announcement today during a Directors' Panel discussion in the Panasonic Booth at the annual Consumer Electronics Show.

BOND 50 showcases fifty years of Bond neatly packaged into one cool, sleek collectable box-set featuring all six iconic James Bond actors. Produced using the highest possible picture quality and audio presentation, the collection includes all 22 James Bond feature films from Dr. No to Quantum of Solace and more than 130 hours of bonus features including some new and exclusive content.

"With all 22 feature films available on Blu-ray in one collection for the first time this is a great way for fans to catch up on 007's epic journey before Skyfall hits theaters next Fall," said Michael Brown, Senior Vice President, MGM Home Entertainment. "Now viewers can enjoy the intense action of the innovative franchise in the most immersive home experience possible."

"We have a whole program of exciting activities planned for our 50th anniversary year, beginning with today's announcement, by Fox, of the release of all 22 films on Blu-ray for the very first time,'' added Michael G. Wilson and Barbara Broccoli, with Eon Productions. "We are also delighted that Fox has unveiled a specially designed anniversary poster which we hope the fans will love as much as we do. Our website, 007.com will be regularly updated with all the latest anniversary news and events."