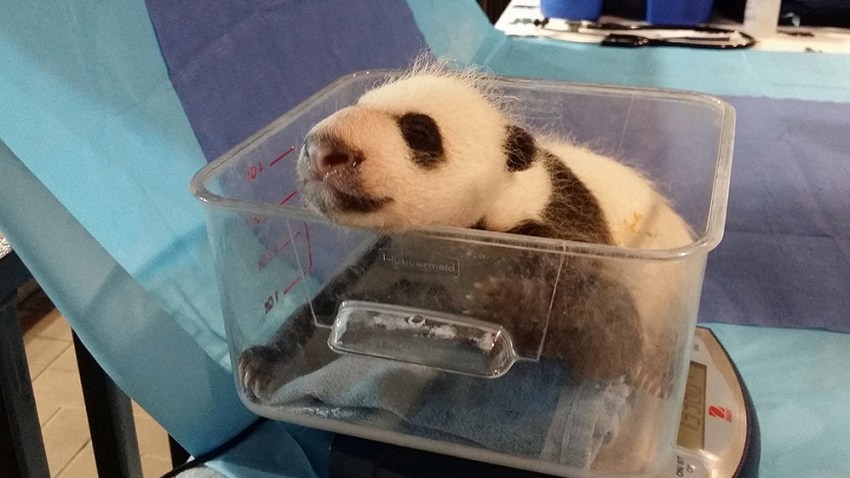 Surprise! The National Zoo's panda cub has a name!
The month-old cub's name — Bei Bei — was unexpectedly revealed Friday at an event at the zoo. First Lady Michelle Obama revealed the cub's name herself.
The name means "precious, treasure," according to the National Zoo.
U.S. & World
The day's top national and international news.
The zoo had said it would make an announcement about its pandas Friday, but baby pandas are traditionally named at 100 days of age. This cub is significantly younger, so the revelation came as a surprise.
China's First Lady Madame Peng Liyuan was also at the National Zoo for the announcement. Peng said she and Michelle Obama had chosen the name together.
"I expect and am confident that the giant pandas will continue to serve as an important link between our peoples," she said through a translator.
Bei Bei and his twin brother were born to the zoo's female giant panda, Mei Xiang, Aug. 22. The smaller of the twins died four days later, but Bei Bei has grown and thrived. At four and a half weeks old, he weighed nearly three pounds -- more than either of his older siblings at that age.
Mei Xiang and the zoo's male giant panda, Tian Tian, have two older surviving cubs: 2-year-old Bao Bao, who also lives at the zoo, and 10-year-old Tian Tian, who now lives at a breeding center in China.
Bao Bao's name was one of several choices voted on by the general public. Her name -- which, just like her little brother's means "precious" or treasure" -- was revealed when she turned 100 days old, during a ceremony at the zoo held Dec. 1, 2013.
Tai Shan's name was also revealed when he was 100 days old. Tai Shan's name means "peaceful mountain."