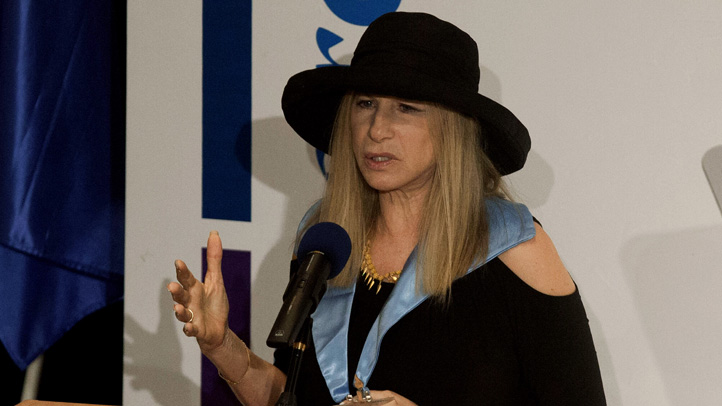 Barbra Streisand took a little time out from being honored to speak her mind in Israel today.
In town on Monday to receive an honorary doctorate in philosophy from Hebrew University of Jerusalem, the iconic singer voiced her concerns during the ceremony about how women are treated within the country's Orthodox Jewish community.
"It's distressing to read about women in Israel being forced to sit in the back of a bus or...having metal chairs hurled at them when they intend to peacefully and legally pray," Streisand said, per Reuters. "Or women being banned from singing in public ceremonies."
U.S. & World
The day's top national and international news.
READ: Seth Rogen admits The Guilt Trip with Barbra Streisand was airplane fodder
There have been protests recently regarding a women's rights group's insistence that ladies be allowed to pray next to men at the Western Wall, where traditionally only men have gone to worship and read from the Torah.
"I know that solutions don't come easy," added Streisand, who is also scheduled to perform two concerts in Tel Aviv and sing for Israeli President Shimon Peres' birthday while in the Middle East. "And they don't in the United States, where women are still making 80 cents for every dollar that a man makes."
Well, she does have a PhD in philosophy now. This is Streisand's second honorary doctorate, having received her first--a Doctor of Humane Letters--from Brandeis University in 1995.
Copyright E! Online