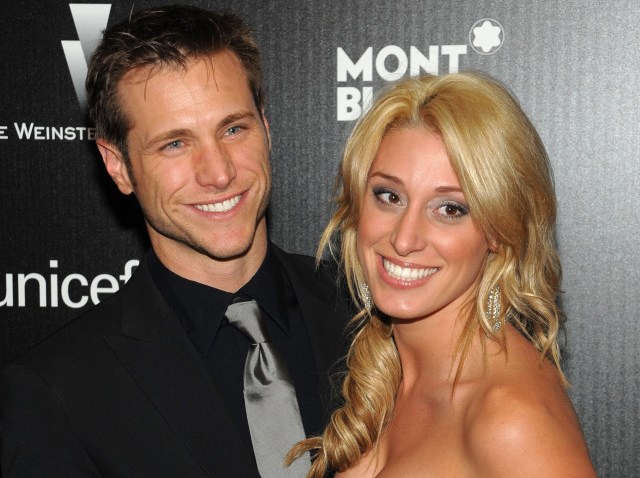 Jake and Vienna rode the wings of love to Splitsville – and back to your living room.
"The Bachelor" franchise's latest failed couple, Jake Pavelka and Vienna Girardi, will take a break from lobbing shots at each other in the tabloids to appear in a joint interview July 5 on ABC, the network has confirmed. And judging by unconfirmed reports about what went down during the ABC special's two-hour taping on Thusday, expect some fireworks.
Pavelka, the newly single 32-year-old pilot from Dallas and burgeoning actor, is also set to appear in ABC's new reality series "Bachelor Pad," host Chris Harrison told Entertainment Tonight. The show, which premieres August 9, will feature 19 former "Bachelor" and "Bachelorette" contestants living together in a mansion and competing for cash.
U.S. & World
The day's top national and international news.
Since confirming their breakup earlier this week, Pavelka and Girardi have dominated tabloid covers and celebrity gossip shows with dueling versions of how their made-for-TV romance unraveled.
Girardi, a 23-year-old marketing executive and polarizing presence among housemates on "The Bachelor: On Wings of Love," lobbed the first shot by accusing Pavelka in Star of withholding intimacy during their relationship.
"As a woman, you need somebody who wants to kiss you and be intimate with you and hold you and want to be with you," Girardi added in a follow up interview with ET. "It is not that hard. We had all that in the beginning and then it just went away. I kept thinking it was going to come back, and it never did."
Pavelka, firing back on Extra, blamed problems in the bedroom on Girardi's "jealousy" and a general "serious lack of respect in the relationship."
"When you're disrespected as a man, do you really want to grab your woman, throw her on a bed and love on her? It doesn't make you want to do that," he said.
Pavelka ended the troubled relationship with a phone call once its emotional toll began to interfere with his new acting gig on Lifetime's "Drop Dead Diva," Pavelka told People.
"I've been trying to put all that aside so that I can give this character justice," Pavelka said. "It's been a struggle thinking about my relationship and going in front of the camera and shooting."