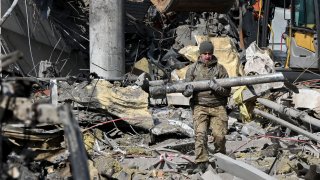 A Winona, Minnesota man taken into custody by Russian forces in Ukraine has been released, U.S. Sen. Amy Klobuchar said.
Tyler Jacob had been detained earlier this month while trying to cross from Ukraine into Turkey. Klobuchar said she reached out to the U.S. State Department and connected with John Sullivan, the U.S. ambassador to Russia, who discussed the situation with the Russian government.
The 28-year-old Jacob went to Ukraine in November, where he took a job teaching English to be with his longtime girlfriend, a Ukrainian, the Star Tribune reported. The couple married in January and lived in Kherson, a southern port on the Black Sea. Jacob stayed even after Russia invaded last month, but finally decided he should try to get out.
Along with some friends from Turkey, he got on a bus headed for the Turkish border but was taken into custody at a checkpoint in Armiansk.
Jacob is now safe with his wife and daughter and they are all planning to travel to Minnesota. The family declined to elaborate on the circumstances of Jacob's detainment. Klobuchar said they "want to be really careful" and "at some point ... the whole story will be told."
This is a live update. Click here for complete coverage of the crisis in Ukraine.
Copyright AP - Associated Press