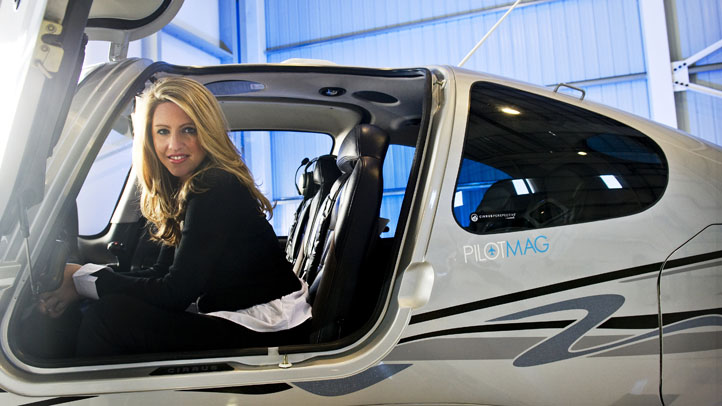 After much hoopla and publicity, the woman who claimed to be a distant relative of American aviator Amelia Earhart revealed Friday the pair is not related.
"After hiring a team of researchers, I learned today that though we share a name and a love of flight, the first Amelia Earhart and I are not from the same family," Amelia Rose Earhart wrote on her Facebook page.
The 30-year-old weather and traffic co-anchor for NBC Denver affiliate KUSA has gained nationwide attention since announcing that she would embark on her own around-the-world flight next summer to honor her "very distant" relative and "namesake."
U.S. & World
The day's top national and international news.
Earhart and a co-pilot plan to circumvent the globe in June 2014 in a Pilatus PC-12NG, starting in Oakland, Calif. The 14-stop, 480,000-mile journey will take the pair over Howland Island where the late Earhart and her co-pilot were supposed to land before they vanished over the South Pacific in 1937.
The modern Earhart hopes to become the youngest woman to fly around the world.
"I've been having this conversation my entire life," Earhart said of her famous name on the "Today" show on Aug. 2. "It always comes up. When I think about the best way to honor being a namesake of Amelia, it's all about adventure."
Earhart said on her Facebook post that she has no plans to abandon her planned flight around the world next year and remains committed her cause of helping young girls to "purse their dreams of flight."
Check out the full Facebook post:
A note from my heart... Thank you for reading. Amelia Earhart once said: "You can act to change and control your life; and the procedure, the process is its own reward." She sure was right.Years ago, I hired a genealogist to look into the link between myself and the first Amelia Earhart, and for the past 10 years, I had the understanding that we shared a distant common ancestry. As many of you may know, I am in the process of recreating her historic flight around the world. As a part of this process, it became clear it was time to determine the EXACT connection between the two of us. After hiring a team of researchers, I learned today that though we share a name and a love of flight, the first Amelia Earhart and I are not from the same family. While the news was a jolt, it DOES NOT change my commitment to the the flight or to the mission of The Fly With Amelia Foundation, which is to enable young girls to pursue their dreams of flight. I am so thankful for all the encouragement and support I have received and I am really looking forward to sharing my recreation of Amelia's flight around the world with all of you. -Amelia