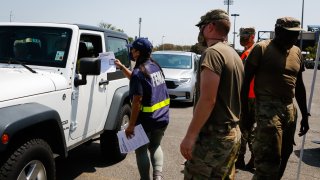 Federal Emergency Management Agency officials expect that they will soon be drawn deeper into the nationwide effort to resettle Afghan refugees, adding another complex challenge to a crushing shower of disasters that has cascaded down on the beleaguered agency over the last 18 months.
The White House recently named Bob Fenton, the agency's former acting administrator and head of its Region 9 office, to lead the Homeland Security Department's resettlement task force. Fenton has begun to stock the task force with FEMA colleagues, and the agency — which is already managing COVID-19 vaccinations at the Virginia refugee processing center — is preparing to take on more duties.
"We're having meetings tracking the activity" of the Biden administration's Afghan resettlement process, said a veteran FEMA official, who spoke on condition of anonymity because he was not authorized to talk to the media. "They want FEMA involved."
Read the full story at NBCNews.com
U.S. & World
The day's top national and international news.