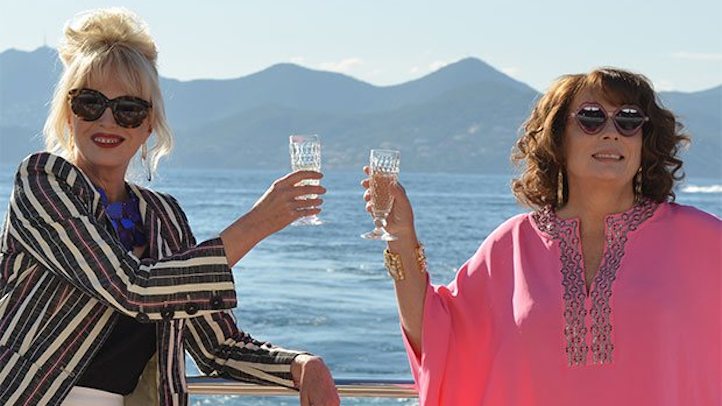 Notice there's an international shortage of vodka and cigarettes? It's because Patsy and Edina are back.
That's right, after years of rumors, the "Absolutely Fabulous" movie, appropriately titled "Absolutely Fabulous: The Movie," is filming right now. The first flick starring Jennifer Saunders and Joanna Lumley as the iconic duo Edina and Patsy will shoot in the UK and south of France. The show's original cast is also returning, with Julia Sawalha as Saffy, Jane Horrocks as Bubble and June Whitfield as Mother.
"I am thrilled and excited to finally start filming. We are all taking our medication and hoping for the best," Saunders said in a statement.
U.S. & World
The day's top national and international news.
Mandie Fletcher is directing a script by Saunders. It's set to be released in 2016. According to a BBC release, Patsy and Edina are still living the high life, boozing and shopping their way around town. But when they're blamed for a major incident at big launch party, the two become entangled in a media storm and are hounded by paparazzi. They take off, penniless, to the French Riviera, and plot to make the escape permanent. Look for A-list cameos from actors, musicians and fashion pros.
CLICK: The best and most ridiculous ads of fall TV
Fox Searchlight and BBC Films are behind the movie with producers Jon Plowman, Damian Jones and executive producers Saunders, Steve Milne, Christian Eisenbeiss, Christine Langan, Nichola Martin, Dawn French, and Maureen Vincent.
"We're so happy to join Jennifer, Joanna and the 'Absolutely Fabulous' team on their latest and greatest adventures!" Claudia Lewis, president of production at Fox Searchlight Pictures, said in a statement. "'Ab Fab' on the big screen is a treat we've been hotly anticipating at BBC Films and we're very proud to join Jennifer and her terrific team for this delicious reunion," Langan, head of BBC Films, said in a statement.
Cheers, darling.
Copyright E! Online