He's ready for his close-up!
He's just shy of one month old, but already Prince George of Cambridge is as photogenic as his royal parents, Prince William and his wife Kate.
Monday saw the release of the royal family's first photos with its latest addition, just four weeks after the Duchess of Cambridge gave birth to him at St. Mary's Hospital in London to worldwide fanfare.
The intimate, sun-dappled snapshots, taken outdoors by Kate's dad in the company of two lazy-looking dogs, gave the world its first glimpse into the young couple's family life.
George, just four weeks old, looked anything but camera-shy — even if he did appear to have slept through the whole informal photo shoot, which took place in early August at the Middleton family home in Bucklebury.
Kate, wearing a loose fuchsia sundress, cradled their son in her arms, while William held the couple's panting cocker spaniel Lupo. The Middleton family's pet, golden retriever Tilly, lounged in the background.
Just before the release of the photos, William described Prince George's personality, plus how he's been adapting to fatherhood, in a new interview with CNN.
He said his son was "a bit of a rascal" who "either reminds me of my brother or me when I was younger." He also revealed that he had changed the baby's first diaper, or "nappy," as the Brits call it.
Prince George's birth on July 22, heralded by an unofficial town crier in London, marked the pinnacle of months of frenzied excitement and speculation worldwide and capped Kate's closely-watched pregnancy.
Afterward, William and Kate briefly spoke with reporters outside the hospital, before William strapped the newborn's car seat into the back seat of a car and drove his family away from the crowds of well-wishers.
The photos released by the family Monday mark the first glimpse of them since. See the photos below, or see more photos of the young family in the gallery.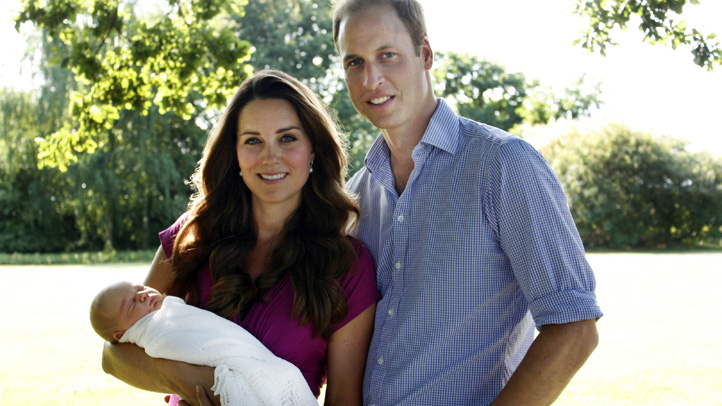 The Duke and Duchess of Cambridge and Prince George are pictured in the garden of the Middleton family home in Bucklebury, Berkshire, in early August. Credit: Mr. Michael Middleton.