Celebrities joined crowds of mourners Monday night at a memorial at the Southern California crash site where "Fast and Furious" star Paul Walker and his friend Roger Rodas died, as officials investigating the tragedy said they did not believe the pair was racing another car.
Candles, flowers and other items were placed at the location where the Porsche Carrera GT driven by Rodas crashed and burst into flames about 3:30 p.m. Saturday in Valencia, Calif., about 40 miles north of downtown Los Angeles, officials said.
The Los Angeles County Sheriff's Department confirmed to NBC4 Monday that a speed limit sign hit by the Porsche displayed a 45 mph limit, despite other unconfirmed reports the wreck was in a 15 mph zone. LASD officials have said they believe speed was a factor in the crash but have not determined the speed the car was traveling.
Crash investigators have "received eyewitness statements that the car involved was traveling alone at a high rate of speed," sheriff's officials said in a statement Monday. "No eyewitness has contacted the (department) to say there was a second vehicle."
In the midst of questions and confusion as to what caused the crash, friends and actors who have worked with Walker gathered for a memorial at the crash site Monday night.
"The love that you've shown Paul is going to stay with me forever. I just wanted to say thank you for coming down here and showing that angel up in heaven how much you appreciate him," actor Vin Diesel said over a police patrol car loudspeaker to crowds of fans gathered outside the memorial.
Another co-star of Walker, Tyrese publicly broke down at the crash site Saturday.
"My heart is hurting so bad, no one can make me believe this is real," Tyrese said on his Instagram account.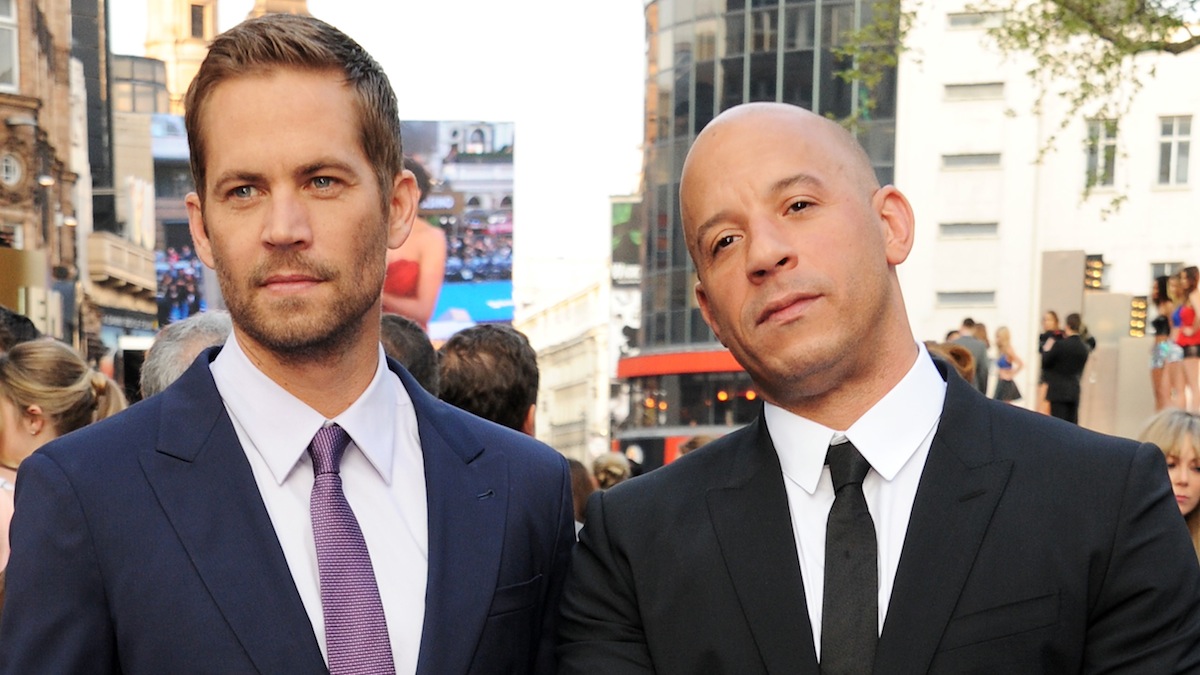 The Porsche Carrera GT model carrying the pair was designed not to be driven on city streets but on racetracks because of its light carbon body and 600 horsepower engine, exotic car exporter Matthias Granic told NBC4 Monday.
The crash happened on a street that forms an approximately 1-mile loop amid industrial office parks. It is rimmed by hills and relatively isolated from traffic, especially on weekends when the businesses are closed.
And while the Rye Canyon area is known to attract street racers, officials maintain that Walker and Rodas were not racing any other cars.
Because Walker is so closely associated with the underground culture of street racing portrayed in the popular "Fast & Furious" film franchise, the fatal accident had an eerie quality — a tragic end for a Hollywood hero of speed.
The two were in the community of Valencia, about 30 miles northwest of downtown Los Angeles, to attend a fundraiser benefiting victims of the recent typhoon in the Philippines. The event was held by Walker's Reach Out Worldwide, a charity he founded in 2010 to aid victims of natural disasters.
Sheriff's deputies found the car engulfed in flames when they arrived at the site of the crash. Officials have not identified either person found in the car, but family members and colleagues of both Walker and Rodas have confirmed the men are the two victims.
NBC4's Tony Shin, Gadi Schwartz and the Associated Press contributed to this report.
More Southern California Stories: