Bay Area Rapid Transit officials and union leaders late Monday reached a tentative agreement on a new labor deal, after two BART workers were killed over the weekend and ending an employee work stoppage that lasted nearly four days.
Limited BART service was scheduled to resume at 4 a.m. Tuesday, with full service expected in the afternoon. But because of staffing issues - getting workers to their jobs - BART trains did not start on time.
Just before 6 a.m., 25 trains - instead of the normal 45 - did start rolling - albeit with about 45-minute delays. But that wasn't soon enough for the riders in Walnut Creek, for example, who were kicked out of the station at 4 a.m. and told to take the charter buses instead.
"The charter bus won't do me any good," said one woman who needed to be to work in San Francisco at 5 a.m.
ATU Local 1555 apologized on Twitter, saying "We just don't have enough people for BART service just yet."
Still, a compromise is in the works.The tentative agreement was announced on Monday about 10 p.m., and must be voted on and ratified by union members, along with approval from BART's board of directors before it takes effect. The details were not disclosed.
"I don't want it to be forgotten that two lives were lost here in this time," Antonette Bryant, spokeswoman for ATU, said at a packed news conference.
"I will simply say that this offer is more than we wanted to pay," BART General Manager Grace Crunican said. "But it is also a new path in terms of our partnership with our workers."
Union employees walked off the job Friday over failed contract talks during marathon negotiations. The strike shut down the nation's fifth largest commuter rail system and created a transit headache for BART's estimated 200,000 daily riders. BART workers also walked off the job in July for four days.
At about 8:30 p.m. Monday, union workers entered the Metropolitan Transportation Commission headquarters in Oakland, where negotiations were held. Local and state politicians - including Lt. Gov. Gavin Newsom - also arrived earlier in the evening to attend contract talks.
Monday marked the fourth consecutive day -- and the second work day -- of the BART strike, which took a new and tragic turn over the weekend after a BART train killed two workers doing maintenance on the tracks.
VIDEO: Commute Sluggish Toward Bay Bridge During Strike
BART charter buses had long lines as early as 4 a.m. in spots such as Hayward, Walnut Creek and Fremont. Three hours later, some bus seats disappeared.
All of the waiting and slugging commutes frustrated riders.
"Get it straight," one tired commuter yelled out loud after being asked his advice for the managers and unions involved in a heated contract dispute that broke down last week.
"It seems a little bit excessive now," said Gina Sponzolli of San Francisco. "And at this point, we're all inconvenienced, and it's really hard to understand what's at issue anymore."
Meanwhile, National Transportation Safety Board on Monday released new details on a tragic weekend incident involving a BART train killing two workers doing maintenance on the tracks.
NTSB investigator James Southworth said the BART employee who was operating the train was a trainee - not an experienced driver as BART officials had first said. The deaths were reported in Walnut Creek, where Christoper D. Sheppard, 58, of Hayward and Laurence Edward Daniels, 66, of Oakland - a contractor - were killed on Saturday about 1:45 p.m.
Sheppard was a member of the AFSCME union, a union that is not on strike. Daniels' family was too distraught to speak, but said that "Larry" lived in Oakland despite technically owning a home in Fair Oaks. They are hoping to have a memorial for him later this week.
MORE: BART Train Operator in Fatal Accident Was Trainee
Sheppard's body will be flown to his hometown in New Jersey for funeral services, according to family members.
"I knew them as human beings and I cared for both of them… and their death is a terrific loss," colleague Karen Goetz said. "Larry had a great sense of humor and was a fun guy. And Chris was a lovely man. I cared about both of them."
Sheppard and Daniels were inspecting the track after reports of a "dip" in the rail, BART Assistant General Manager Paul Oversier said over the weekend. He added that both workers had extensive experience working on the track. The BART manager who was driving the train was returning a train to the Concord yard after delivering vandalized cars to Richmond for cleaning, Oversier said.
WATCH: NTSB News Conference of BART Workers
Sheppard and Daniels were the sixth and seventh BART workers to die on the job in the transit agency's 41-year history. They were memorialized at a vigil Sunday night.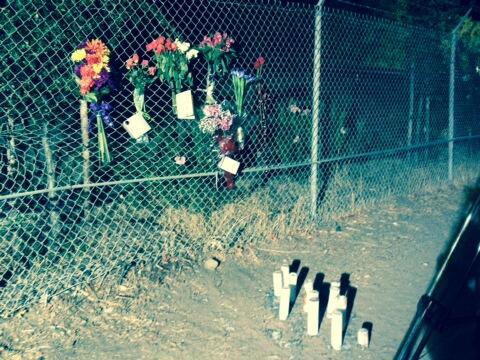 Union officials said they had warned BART repeatedly in writing about the dangers of allowing non-union personnel to operate the trains, and filed a lawsuit on Oct. 7 in Alameda County Superior Court to block the practice.
MORE: BART Unions Offer New Proposal on Work Rules
Early Monday morning, union workers were out again at the Lake Merritt BART station, but as opposed to Friday, when there was palpable anger in the air; Monday's tone was much quieter in light of the worker deaths.
NBC Bay Area's Terry McSweeney, Kristofer Noceda, Lisa Fernandez, Damian Trujillo, Monte Francis, Lori Preuitt , Bob Redell, Christie Smith, Chase Cain and Cheryl Hurd contributed to this report.