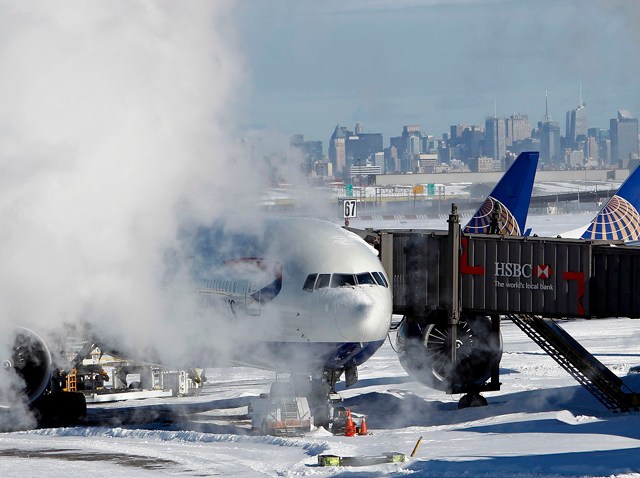 ST. LOUIS - A monster storm was bearing down on the middle of the United States on Tuesday, with freezing rain and sleet pelting several states from Texas through Ohio.
Parts of nine states — Oklahoma, Kansas, Missouri, Iowa, Illinois, Indiana, Wisconsin, Michigan and Ohio — were covered by a blizzard warning Tuesday morning, TODAY's Al Roker reported.
Early indications were ominous. Parts of southwest Missouri already had 6 inches of snow by 8 a.m. About 3,000 were without power in Ohio, 2,600 in Oklahoma. Roads were ice-covered and virtually impassable in several states.
U.S. & World
The day's top national and international news.
The storm cut a 2,100-mile swathe across the country and has the potential to impact about 100 million people, or one-third of the U.S. population, according to The Weather Channel.
The National Weather Service's national map of advisories and warnings was a patchwork of different color-coded alerts, showing a country under siege by the storm.
As the storm began its trek, it brought a bit of everything: ice, sleet and snow — even tornadoes in the South were possible. School districts, universities and legislatures closed; airlines canceled more than 4,500 flights; and residents rushed to gather supplies, anticipating they might have to dig out or hunker down.
Forecasters predicted a hodge-podge of brutal winter weather — 24 inches of snow in some places, up to an inch of ice plus snow in others. Making matters far worse was the expectation of shivering cold and winds gusting to near 60 mph.
"What really gives us nightmares is the prospect of widespread power outages," said Jeff Rainford, chief of staff for St. Louis Mayor Francis Slay. "It's cross-our-fingers time."
When the snow finally ends, bitter cold will set in. Temperatures in some parts of the Midwest will dip well below zero. Gusty winds will blow all of that snow. Visibility will be virtually zero at times.
The system was also expected to cause disruption in the Northeast; more than 200 schools were closed in Pennsylvania, NBC News reported, and similar announcements were expected from the New York tri-state area and up through New England.
Airport travel chaos
Dallas-Fort Worth International Airport closed for a short Tuesday morning due to an ice storm, then reopened one runway an hour later.
The freeze closed schools and snarled road traffic across much of North Texas. Dallas Area Rapid Transit has suspended rail service because of the storm.
In Oklahoma, Will Rogers World Airport in Oklahoma City and Tulsa International Airport were both closed.
Across the country, airlines canceled more than 4,500 flights Tuesday, according to flight-tracking service FlightAware.com.
The total for Monday, Tuesday, and Wednesday is already more than 7,700, it added.

Airports in Newark, N.J., and Chicago are the hardest hit, FlightAware said, with more than 600 cancellations in each. Chicago is a hub for United and American, and Continental has a hub in Newark.

JetBlue is canceling flights in and out of New York's JFK airport for the rest of Tuesday, with some flights to resume Wednesday afternoon. It plans to shut down its Boston flying Tuesday night through Thursday morning.
Delta said it canceled more than 625 flights for Tuesday.
Driving wasn't any easier. The Iowa Department of Transportation said most roadways in the state were partially or completely covered with a combination of ice and snow. Officials warned that drifts and whiteout from blowing snow make travel treacherous, if not impossible, in some areas.

Deadly wrecks were reported in Minnesota and Kansas. But accidents in Missouri were surprisingly few given the increasingly worsening conditions. Highway Patrol Sgt. Al Nothum said he drove along Interstate 44 in St. Louis County and went miles without seeing another car as people apparently heeded warnings to stay home.

"It was pretty deserted out there," Nothum said.
Storm predictions were so dire that public officials, street crews and utility workers have been in place since Monday in anticipation of the worst. The St. Louis-based utility company AmerenUE had nearly 500 of its own linemen ready to go and was bringing in another 800 from as far away as Michigan.
Massive amounts of ice predicted south of St. Louis, followed by strong winds, could cause a repeat of 2006, when the ice knocked out power in parts of Missouri for weeks.
Hardware stores were selling out of snow shovels, backup generators and ice-melting salt. Grocery stores doing all they could to keep supplied with the staples.
"I've never seen a prediction of what have you — rain, snow, ice, whatever — where people reacted so quickly to it," Jack Runyon, co-owner of Runyon Equipment Rental in Carmel, Ind., where customers snapped up all of the store's small emergency generators.
"Milk, bread, toilet paper, beer," said Todd Vasel of the St. Louis-based grocery chain Dierbergs, who said pre-storm crowds were more than double the norm. "It's been the equivalent of Christmas Eve, which is normally one of our biggest days of the year."
Chicago in for third-worst storm?
The storm brought the potential for some strange happenings — thundersnow, lightning, even tornadoes.
Forecasters said some regions could get up to 2 inches of snow per hour through parts of Tuesday night and Wednesday morning. Kansas City, St. Louis and Milwaukee all seemed in line for 12 inches of snow or more.
Even Chicago, where snow is common, could be in for its third-worst blizzard since record-keeping began, with up to 20 inches possible.
Paula Lawson, a 59-year-old community organizer from suburban Glencoe, said she remembered the big storm in 1967, which "really did stop the world for days."
Will the latest storm do the same?
"If we get 20 inches, maybe," Lawson said at a downtown rail station. "But around here, 12 inches, it doesn't stop us."
After burying the Midwest, the storm was expected to sweep into the Northeast, parts of which already are on track for record snowfall this winter.
A winter storm warning was in effect for New York City, with forecasters predicting a mix of snow, sleet and ice. Federal workers in Washington were given the option of working from home because roads on Tuesday were already slippery.
Governors in Kansas, Oklahoma, Missouri and Illinois declared emergencies, even as the storm was just arriving. Missouri Gov. Jay Nixon activated 600 members of the National Guard.
It wasn't just people getting ready for the weather. The Humane Society of Missouri urged people to bring pets inside. Farmers and ranchers prepared livestock.

Kevin Hafner, who works for Express Ranches' operation in El Reno, Okla., said workers prepared enough feed to last their animals for 48 hours. Workers were preparing to chop ice on ponds so the cattle will have adequate water.

"They are tough enough to handle it," Hafner said of the cattle. "They've got a good hair coat this year, but we have to have enough feed to give them energy to keep going."
Copyright MSNBC - MSNBC