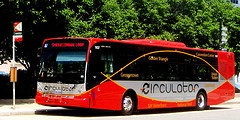 Who says a bunch of elitists can't save a bus route?
The members of the Citizens Association of Georgetown, which traces its roots to 1878, launched a campaign to fight the shut down of the upper Georgetown portion of the Circulator bus -- and they won!
Yes, D.C. Mayor Adrian M. Fenty (D) announced today that the route north of M Street, NW will remain.
"After further review this administration has determined the route along Wisconsin Avenue is necessary to the residents, businesses and workers who rely on it as an economically reliable transportation choice," said Hizzoner.
That's right. At $1 a ride, you can't beat the big, bright red buses.
Ward 2 Councilmember Jack Evans, who joined Fenty and District Department of Transportation Director Gabe Klein for the announcement, credited "the great outpouring of support from the DC Circulator ridership" for the continuation of "this vital transportation option" along Wisconsin Ave.
Oh, how the rhetoric speweth forth after you almost cut us off from:
Whitehaven Street, NW & Wisconsin Ave
Wisconsin Ave & 34th Street, NW
Wisconsin Ave & Q Street, NW
Wisconsin Ave & P Street, NW
Wisconsin Ave & O Street, NW
Wisconsin Ave & Dumbarton Street, NW
Wisconsin Ave & N Street, NW
So go forth, all ye citizens of D.C. and get thee to Georgetown via the Circulator. You might not be able to afford everything there, but who says it isn't a nice place to walk around?
Note: Starting Oct. 4, the weekend Smithsonian-National Mall loop of the Circulator will still be discontinued through the fall and winter months. It will resume April 3, 2010.