If the heat has been starting to get to you these past couple days, then buckle up: This weekend looks to bring the hottest temperatures we have seen all year, including the possibility of our first 100-degree day since 2012.
However, up until this point, we have actually been cooler than in recent summers. Yes, cooler.
Since the start of the year, just 18 days have registered temperatures at or over the 90-degree mark. Over the past five years, only 2014 brought us fewer 90 degree days; it had just 14 of them.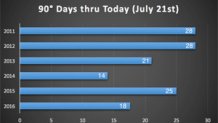 Far more common were years like 2011 and 2012, in which we had 28 days at 90 degrees over the same time period.
Part of this summer's lower total can be attributed to a lack of prolonged heat waves. Only very recently did we get a run of seven days at or above 90.
That period, from July 13 to July 19, never saw us reach the 100-degree mark.