D.C. police have arrested a woman who was apparently caught on video setting fire to an apartment lobby, blocking an exit of an occupied building.
Laketia Hazelwood, 31, of Southeast D.C., was arrested Tuesday and charged with arson, police say.
Hazelwood and an unknown second woman entered the apartment lobby on the 3900 block of Pennsylvania Avenue SE on June 17 about 10 p.m. with a box, police say. Surveillance video shows they took out a bag with a flammable liquid, tossed it in the lobby and then tossed several lit matches onto the bag.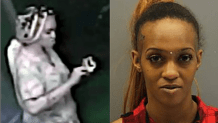 After several attempts, the bag erupted in flames. Smoke and fire plumed through the lobby, blocking an exit of a four-story apartment building.
The two suspects ran away. No injuries were reported.
Substantial damage was done to the apartment, leaving 11 residents displaced. The front glass doors and overhang were destroyed, 13 windows were blown out and the building had smoke damage.
Local
Washington, D.C., Maryland and Virginia local news, events and information
Police didn't detail a possible motive, but said numerous citizens called in with tips in the case.