A woman and two children ran out of a house in Virginia on Saturday and told police the children's father had held them captive for more than two years, police say.
The woman, 32, and two children, ages 8 and 11, ran to freedom after police received a request to check on the welfare of the family in rural Fredericksburg, Virginia, on the 3600 block of Mine Road.
Kariem Moore, 43, has been charged with three counts of abduction by force and one count of felony assault and battery, police said Wednesday. He is the woman's boyfriend and the father of the children, police said.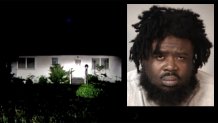 Police were dispatched to the house -- which sits far from other houses -- about 5 p.m. Saturday. As Spotsylvania County sheriff's deputies spoke with Moore on the front lawn, he "became evasive" when the officers said they were there to check on the family.
As they spoke, the woman and two children ran out of a side door and away from the house. Moore was detained, and the woman and children were taken to safety.
It was not immediately clear how Moore allegedly was able to keep the woman and children, who police did not identify, in the house.
Local
Washington, D.C., Maryland and Virginia local news, events and information
No missing persons reports were ever filed.
A neighbor said she only saw the woman and children once, at least a year ago.
"I have never seen that lady or those kids since they moved into that house, and that was before last summer, because the grass was really tall," the woman who lives nearby said. She asked not to be identified.
The neighbor said Moore told her his girlfriend was handicapped.
"When he said that she was handicapped, I told my husband, I said, 'Well, I saw a lady over there, but I saw her walk. But I've never seen her since then. I assumed that he was living there by himself."
At the house on Wednesday night, every window was covered with a blanket.
The woman is in a hospital for treatment. She is in serious condition and has health issues that went untreated for years, according to The Free Lance-Star, which was first to report the story.
The children are in the care of family members. The local school district could not confirm, without knowing the children's names, if the children were enrolled in school, a spokeswoman said.
Moore is being held without bond at Rappahannock Regional Jail. Real estate records show he was not the owner of the house where his family lived.
Sheriff Roger Harris reminded residents to report anything that seems out of the ordinary.
"One phone call could make a major difference in someone's life," he said.
Anyone with information for police is asked to call 800-928-5822 or 540-582-5822, or visit www.spotsylvaniacrimesolvers.org. To text a tip, send SEE911 to CRIMES.