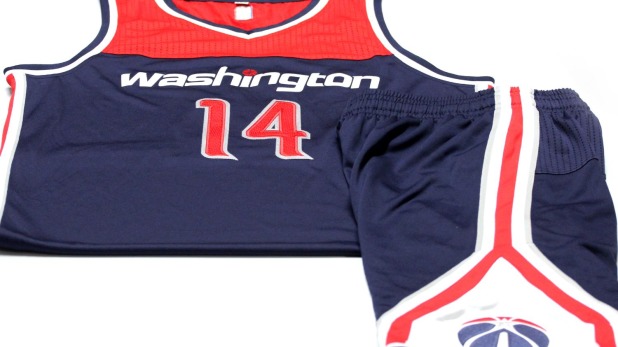 This post will serve as my first foray into fashion, as the Wizards have unveiled an alternate uniform that they'll wear during the 2014-15 season (although no specific dates have been determined).
"The new jersey will be primarily navy blue with red color-blocking at the top and 'Washington' listed on the front while the navy shorts will feature the secondary 'Monument' logo," according to a release.
Summer League MVP Glen Rice Jr in our new 2014-15 alternate unis available for purchase 10/1! http://t.co/sn7eVlUcLr pic.twitter.com/2zNHrZjJ1R — Washington Wizards (@WashWizards) July 22, 2014
Personally, I would have preferred a third stripe for consistency with the home and road uniforms, but no one is paying me for my fashion advice, so I will leave it at that.
The jerseys will be available for purchase Oct. 1. Will you pick one up?
---
Follow Adam on Twitter @AdamVingan and e-mail your story ideas to adamvingan (at) gmail.com.